I always kind of thought of it like "Those who are right (ie correct) and those who are left" (ie the rest of the people), hehe
I thought it might have reference to right hand / left hand uses in the ancient times in the middle east, but I don't know
[deleted]
who's to say the French didn't decide that setup from the said verse???
Yeah France. The Royalist and the Old Guard sat on the Right and the Progressives, Revolutionaries sat on the left.
Yep. French revolution stuff. It was during the drafting of the French Constitution.

The delegates had originally sat where ever they felt like but naturally gathered together in the hall based on how they voted for things. (no one liked being in the middle of a crowd that voted differently).

The delegates that supported democratic reforms gravitated to the left of the hall and those that supported the monarch to the right.

The newspapers at the time picked up on the seating change and began referring to progressives as "being on the left" and conservatives "being on the right."

Eventually it became pretty symbolic, the more progressive or conservative you were, the further away from the middle you sat. So, someone who had far left/right ideology would go sit on the literal far side of the gallery, away from the middle. The more moderate your views were, the closer to the middle you sat.

Which is where we get center left/right naming too. They literally sat in the middle, a little bit to the left or to the right.
Show More Comments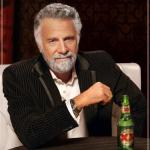 IMAGE DESCRIPTION:
I OFTEN WONDERED WHY CONSERVATIVES ARE REFERRED TO AS THE RIGHT AND LIBERALS AS THE LEFT; THEN I FOUND THIS BIBLE VERSE; "THE HEART OF THE WISE INCLINES TO THE RIGHT BUT THE HEART OF THE FOOL TO THE LEFT"; ECCLESIASTES 10:2
hotkeys: D = random, W = upvote, S = downvote, A = back