Father and son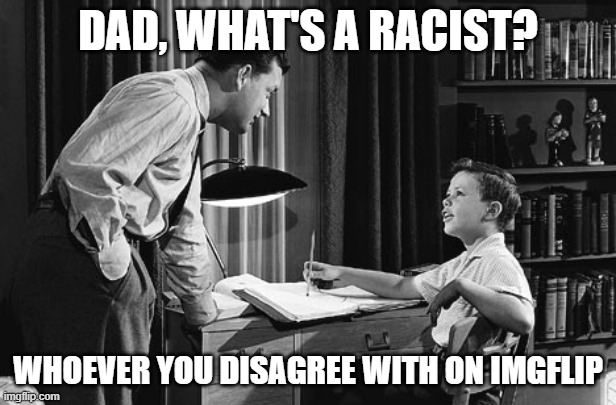 Democrats only have about 6 or 7 insults that they can think of to call the right. They have been using them for about 50 years now and haven't been able to come up with anything new. Well... One thing and that name wasn't created by Democrats, it was created by Islamic terrorists. That word is "Islamophobe". But even that word is coming up on about 20 years now and Dems don't use it very often.

None of their standard insults ever had any basis in reality but they just keep using them over and over and over. Their insults have gone from being offensive, to funny to just flat out boring and meaningless.
I like how the dad could be either liberal or conservative
[deleted]
I like how you totally overthink the neme
Seeing that both sides do this is not overthinking. It's observation.
I've never seen a conservative call someone racist without explaining exactly why. I have seen leftists call people racist over nothing.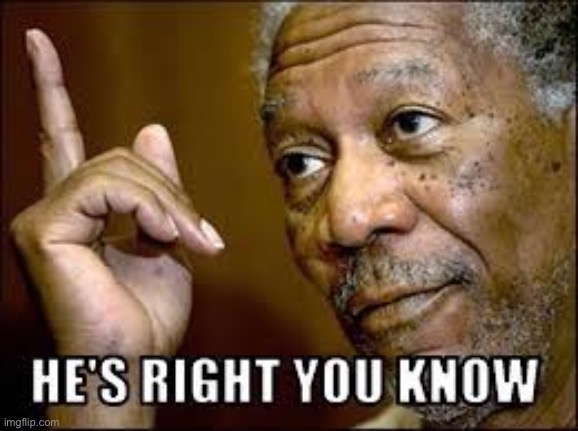 Calling people racist is pretty much a liberal/leftist/Democrat thing.
[deleted]
No, he's actually correct. Conservatives didn't start stretching the goal posts of the definition of racism until they kept being labeled racist over nothing by the left. It truly is a left thing and the right just plays their game back at them. You'd have to be a blind man to not see this. Or just a liar.
ahahahahahahahaha i got called "racist" by conservatives for criticizing candace owens
[deleted]
What's good for the goose is good for the gander, as the saying goes.

Play the stupid games, win the stupid prizes. The left continue moving the goal posts back on the race card, redefining the term, so now they want to complain when it's thrown back in their faces.
I got called racist multiple times by conservatives for saying that racial slurs are bad.
Seal of Approval - Upvoted!
you're confusing racist with zionist, mate
Show More Comments
IMAGE DESCRIPTION:
DAD, WHAT'S A RACIST? WHOEVER YOU DISAGREE WITH ON IMGFLIP
hotkeys: D = random, W = upvote, S = downvote, A = back