They should be held responsible but, is America ready for an international body with authority over the worlds countries and capable of holding even America at fault if we were found negligent and the cause of a major pandemic?

This is what it would take.
Oh yeah, I know. War is so 1940. It's boomer talk that won't go anywhere but puts the blame on someone else. Solutions don't matter.
H1N1 is swine flu, not Spanish flu
Was about to say. Maybe Autocorrect on the phone.

Yes, I'm giving the benefit of the doubt. It's kinda my thing really.
The Spanish Flu started in Kansas.
Some say, mostly they say there is no consenus on where it started.
It didn't start in Spain of course. Kansas is considered because they had Doctors capable of diagnosing but much evidence suggests it came from farther afield than Kansas however it was spread most widely from there.
Well, the point is not a lot of people think it started in China as per the meme.
It was probably not and just named racistly.
OK, let's take this apart. COVID-19 is very likely to have originated in China, however the black death is most likely from India and the Spanish Flu started in America.

Yes China lies, yes China is to blame for COVID-19 getting out of hand, but blind bigoted unscientific views like this are as bad as the Chinese Communist Party.
Humans are wildlife, we are not separate from the Animal Kingdom. When you study evolution at school you would've understood that!
Past pandemic's don't matter. If we have a world order, nations can be held accountable. If you don't believe in a world order, don't bitch about where any pandemic originates. You can't have it both ways.
You were? Well, we can't all be from Taiwan I suppose.
Just put together my new day bed this afternoon. Made in China. Thing is awesome.
Show More Comments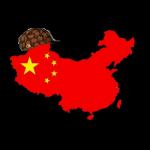 IMAGE DESCRIPTION:
THIS COUNTRY IS WHERE THE BUBONIC PLAGUE (BLACK DEATH), THE H1N1 (SPANISH FLU) PANDEMIC, AND THE CORONAVIRUS ORIGINATED FROM; AND THIS COUNTRY'S GOVERNMENT DOES NOT EVEN ACKNOWLEDGE IT.
hotkeys: D = random, W = upvote, S = downvote, A = back