Anything more, and they are just being greedy Capitalists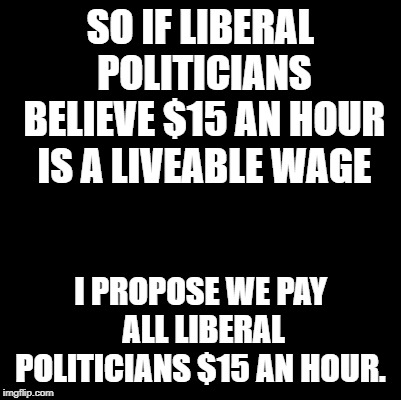 reply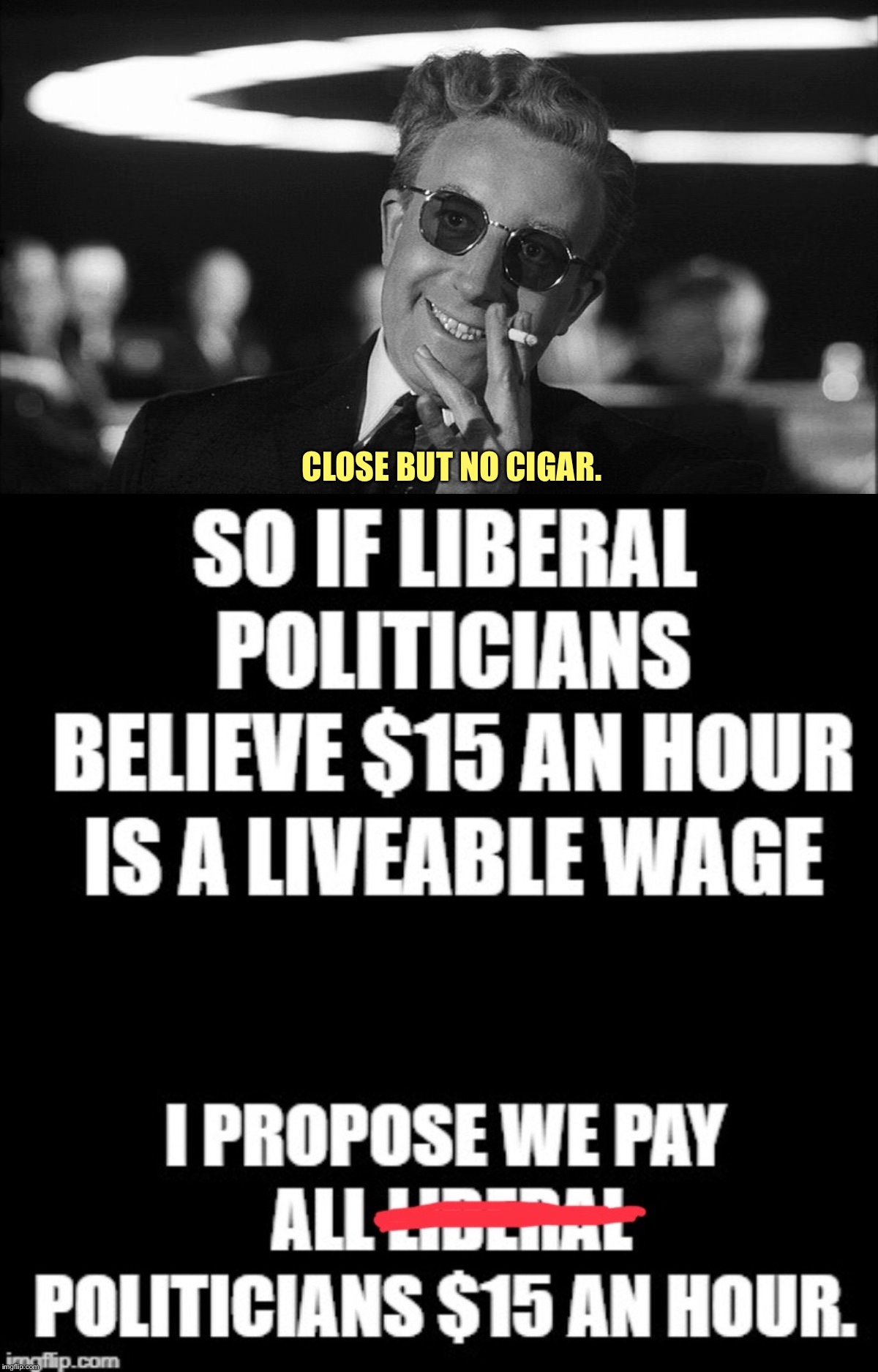 reply
[deleted]
...o...k...

So never one to ignore the obvious: let's put conservative politicians on less than that.
reply
Conservative politicians (real ones anyway) believe you should be paid according to your worth..ie productivity. If a Conservative politician is not earning his wage I would not propose he be paid $15 an hour, I propose he should be fired. As a manager when I hire someone I expect them to do their job. If they don't, I will let them go. As taxpayers we should hold our politicians to the same standards.
reply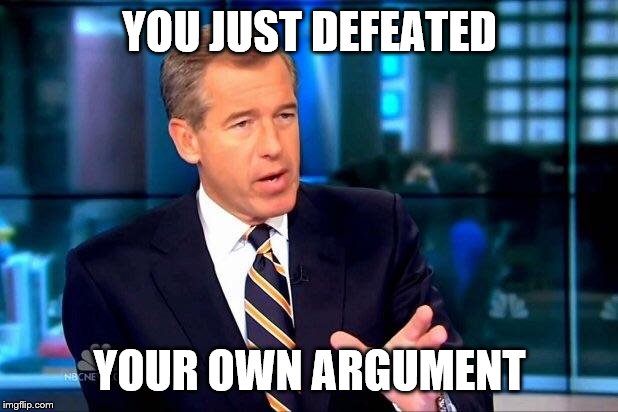 reply
Thst's why we have elections.
reply
[deleted]
If we pegged minimum wage to productivity, it'd be up at $20 or $30 per hour by now!!!!!
reply
[deleted]
Liberalism is a front for Globalism people wake up! Liberals are traitors
reply
[deleted]
Well said !
They seek destruction.
*handclap
reply
[deleted]
how's about all the race-baiting???
They want a civil war-
so they can call their own "National Emergency"
and use the guillotines they ordered 15,000 sent to Georgia during Obama's regime
to kill Christians.
do some research about treason that obama did-
because wikileaks and alot of other places have stored that information- but it's almost inexhaustible. read USC 42- or USC 666 and you'll know these people are influenced by the demonic.
reply
[deleted]
they encourage [ abetting ] illegals to enter the country and buy guns- they literally use emotional issues to hide behind- while encouraging violence- death and destruction of our
1. heritage (10 commandments out of schools)
2. family (welfare racket)
3. our God - where the spirit of The Lord is there is Freedom...
freedom only comes from God himself.

THERE IS ONLY 2 KINGDOMS.
light vs. darkness
good vs. evil
reply
[deleted]
hey now... watch your flattery w/me =D
reply
[deleted]
oh what am i thinking?! DUDE listen to Mark Levin's show February 20th 2019...
he covers alot of ground- i'm a fighter- i'm not a picture perfect remembering master of the universe- but he lays out the facts that are easy to piece together-
then i challenge you to... suppose this.. What if ALL America's problems were by design- and our wounds have been 90% self-inflicted since 1913 ?
what if bankrupting the US was their plan all along? what if the plan was to sell California to China to pay our debt to them? thereby ending America and creating a 1 world government?
what if the democrats have been following plans as if they read agenda 21.. agenda 2030 and were complicit?
What if George Soros is funding the invasion south of the border using USAIDS funds through his phony front companies- that he owns and that receive USAIDS.
What if the God of the bible- is Jesus and also the messiah? and what if This One True Almighty God-
is the enemy of globalism?
and what if CNN/ MSM/ etc.. who is the hollywood bad guy???
Russia?- formerly Christian nation? Trump? Jews?
Why is nobody talking about Farakhan?
because they really really do want destruction- that's why CNN and the rest are silent about Farakhan.
Show More Comments

IMAGE DESCRIPTION:
SO IF LIBERAL POLITICIANS BELIEVE $15 AN HOUR IS A LIVEABLE WAGE; I PROPOSE WE PAY ALL LIBERAL POLITICIANS $15 AN HOUR.
hotkeys: D = random, W = upvote, S = downvote, A = back