Picard Wtf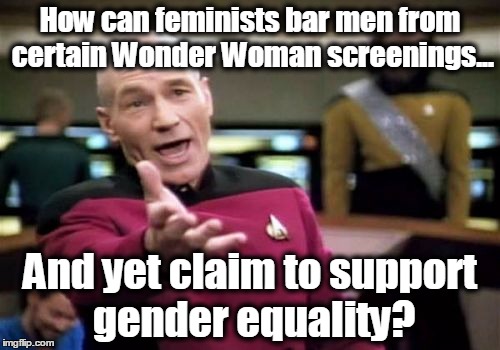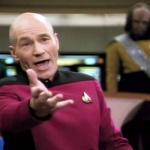 reply
Because feminists do not actually want "gender equality" but rather special treatment and special rights at the expense of men.
reply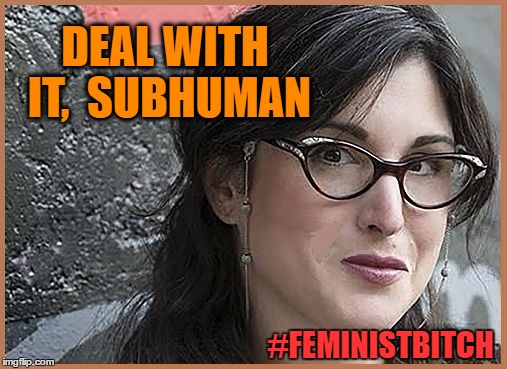 reply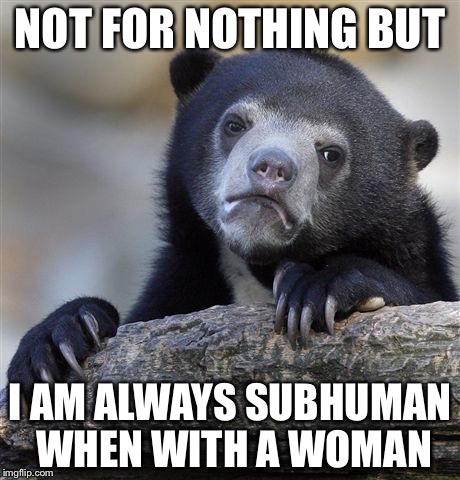 reply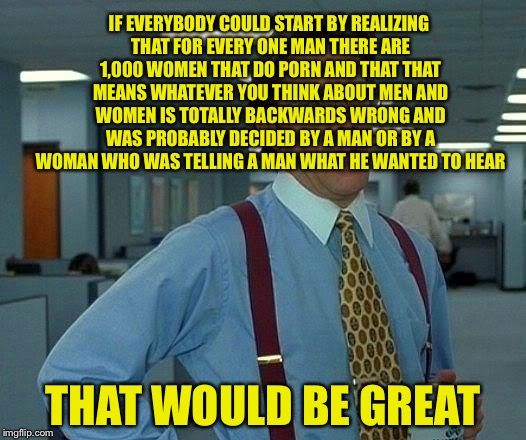 Sorry. Couldnt help it. Frustrating. Very frustrating. Overthinking these memes :-/
reply
What did any of that mean?
reply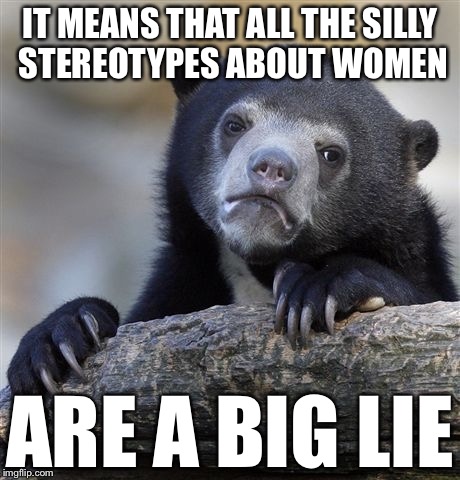 Look at this one, the most obvious. Women will say men are perverts because they look at porn. But men are too stupid to realize that women have to be far more perverted than men BECAUSE THEY STAR IN IT. At a rate of 1,000 to 1. Once you understand that this difference between men and women applies to everything, you'll see that everything most people think and say is the opposite of what actually is. Just my .02
reply
Its one of those simple things that no one ever realizes.
reply
Discrimination is wrong, no matter who it is directed towards. If you cannot comprehend that simple logic, you really need to STFU. If you cannot comprehend that discrimination cannot be "made up" by engaging in even more discrimination, you *really* need to sit down and STFU.

You are not helping. You are not improving the situation. What you are demonstrating that you should not have a voice in determining what is, or is not, equal. Essentially, you are what you think you are speaking out against. Unless and until you can grasp the concept of irony without having it explained to you - sit down and STFU.
reply
Pretty sure feminists are the only ones attending anyway
reply
[deleted]
So many men have taken this as an affront to their masculinity that the original screening was sold out within hours, at least one additional screening is scheduled, and more screenings are now scheduled in several other major cities. Alamo bar is getting a lot of publicity, and that will attract more customers.

Me, I think fine. Give them their girls night out. I can wait to see it. Instead of little boy tantrums quashing the event, it's only made it bigger. Well played, ladies.
reply
[deleted]
If a woman only screening of Wonder Woman is seen as some grave injustice against men, then men seem to have it pretty good. :P
reply
If theaters held men-only screenings of Captain America, the liberals would freak out. Once again, we see reverse inequality.
reply
I agree. The pay gap is a real thing, and that's not all we deal with. If you want to complain about not being able to see wonder woman screenings go ahead, but know that that is not inequality compared to what woman go through. Sexual harrasment and sexual abuse is more often than not directed at woman, men are payed more than woman who have the same job as them, and much more. Go ahead and down vote this comment but I just wanted to point this out. I'm not saying all feminists are fair, but lots are. Take this into consideration.
reply
1: the pay gap is not real. It doesn't account for occupation, hours worked, or anything you'd want to see in such a widely used figure.
2: sexual harassment may happen more often to women, but it doesn't mean that it doesn't happen to men.
3: even if you were more "oppressed" then men, it doesn't mean that it's completely fine to discriminate against men

Beyond this comment being demonstrably wrong, I could go on and on about how feminists are seldom fair. It's not a fight you want to fight, as I have a perfect record against feminists, but if you want to, let's go. For now, in conclusion, I'm not saying all feminists are unfair, but lots are. Take this into consideration.
reply
Really? You wanna play the privilege game? Ok then. If having to see a movie while a man is in the theater is some grave injustice, then women seem to have it pretty good.

Downvote
Show More Comments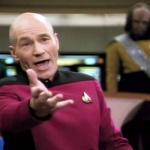 IMAGE DESCRIPTION:
How can feminists bar men from certain Wonder Woman screenings... And yet claim to support gender equality?
hotkeys: D = random, W = upvote, S = downvote, A = back