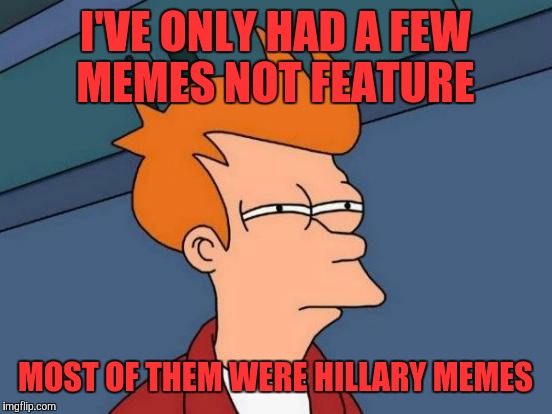 About 80% of my non-featured memes were anti-Hillary...
I've had a few unexplainanable NSFW tags.
A few months back, there was an epidemic of clean memes getting flagged NSFW (
imgflip.com/i/15xmpc
imgflip.com/i/1629nw
). The most prominent was a/some muslim/s running around flagging anti-Islam memes, but there was also just good memes getting flagged to try and sabotage them.
Although, it could also be the words you're using...
imgflip.com/i/188f3m
Here's one tagged NSFW. I agree with the NSFW tag, but this one doesn't make sense. Your thoughts?
imgflip.com/i/1bdqg6
Show More Comments
IMAGE DESCRIPTION:
ANTI-HILLARY MEMES DON'T FEATURE BECAUSE HILLARY SUPPORTERS DOWNVOTE THEM; WHILE I CAN'T SPEAK FOR ALL TRUMP SUPPORTERS, I JUST IGNORE ANTI-TRUMP MEMES
hotkeys: D = random, W = upvote, S = downvote, A = back