Thank you, Sir!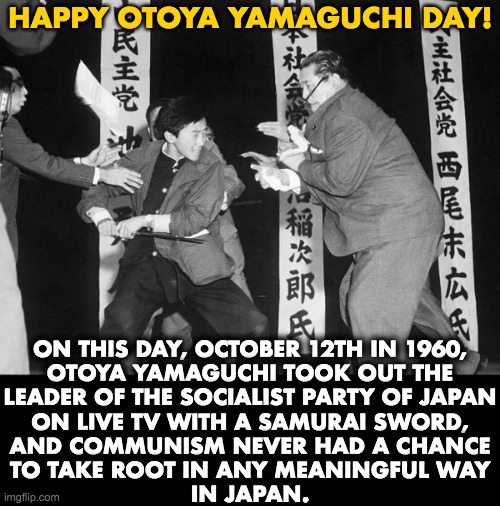 1,419 views
•
23 upvotes
•
Communist are the enemy. Thousands of Americans died fighting them throughout the world.
Disagree with political assassination of any kind.

Documentable state treason on the other hand can be unearthed with legitimate due process, once the DS's information control mechanisms are exposed and neutralized.
Yes, agree, however when the political system - such as communism - grabs hold, there is no such thing as legitimate due process.
So tyranny, genocide, famine, economic failure and life of misery forced onto everyone are okay?
It must be stoped before it starts, then its too late.
[deleted]
Don't look now... You just described every Leftist's paradise.
Neither did I.
I didn't not make a meme defending those things. You're always spinning what people say, incapable of holding an honest debate.

Your question is psychotic.
I mean, you are okay with abortion, the murder of helpless children. What is it to you the death of a socialist pig which threatened the whole country if Japan? Seems like radical amputation was needed, get rid of that cancerous part of your body before spreads too deep and endangers the whole body. Unfortunate, but needed. Just like you would kill all religious groups if you had the power, starting with Christians. I know you would.
Uh huh. I wish to believe you Octavia_Melody, but I know better. I was not born yesterday.
Show More Comments
IMAGE DESCRIPTION:
HAPPY OTOYA YAMAGUCHI DAY! ON THIS DAY, OCTOBER 12TH IN 1960, OTOYA YAMAGUCHI TOOK OUT THE LEADER OF THE SOCIALIST PARTY OF JAPAN ON LIVE TV WITH A SAMURAI SWORD, AND COMMUNISM NEVER HAD A CHANCE TO TAKE ROOT IN ANY MEANINGFUL WAY IN JAPAN.
hotkeys: D = random, W = upvote, S = downvote, A = back