I love how this applies to most countries 😥
One of the things that actually gives me hope is to read all kinds of old literature, Shakespeare for example, and see all the stupidity, self-service, deceit, and evil hasn't changed much over the ages. There are heroes and villains, now as ever. Most people are a mix of both.
Both parties suck because both refuse to see the other side's point of view, even when the other side makes a valid argument. I'm not in either party, but I lean towards more of the republican side, though I share some of the same view points as many democrats.
haha nice i can agree with you.
Party On - - Upvote for you!
The Democrats suck because they actively promote evil. The Republicans suck because they refuse to effectively fight evil.
I haven't seen any Republicans promoting having children sexually mutilated, but Democrats do. If you can't label that evil, I have nothing to say to you.
[deleted]
Yes they do child yes they do
From the AP:
Social media users are altering comments made by Biden during an Oct. 15 town hall to falsely suggest he supports sex changing medical procedures for young children. Biden said transgender children should not experience discrimination, but he did not say they "have a right to transition."

At the town hall, aired on ABC on Oct. 15, Pennsylvania voter Mieke Haeck asked Biden how he would reverse actions by the Trump administration that had negatively affected LGBTQ people, including her 8-year-old transgender daughter.

Biden responded, "I will flat out just change the law. Every — eliminate those executive orders, number one."

He added, "The idea that an 8-year-old child or a 10-year-old child decides, 'You know I decided I want to be transgender. That's what I think I'd like to be. It would make my life a lot easier.' There should be zero discrimination."
[deleted]
Democrats promote gender swapping surgeries for children
[deleted]
HOW?? They are putting CHILDREN UNDER DEADLY OPERATIONS JUST TO PUSH ThEIR RADICAL LEFTISTS VIEWS
Medicine is complicated. Doctors need to have the freedom to do what is right for each individual patient. People who are screaming about "mutilating children" are trying to tie the hands of doctors, and the doctors don't like it. The American Medical Association (AMA) urged governors to oppose state legislation that would prohibit medically necessary gender transition-related care for minor patients, calling such efforts "a dangerous intrusion into the practice of medicine." In a letter to the National Governors Association (NGA), the AMA cited evidence that trans and non-binary gender identities are normal variations of human identity and expression, and that forgoing gender-affirming care can have tragic health consequences, both mental and physical.
Show More Comments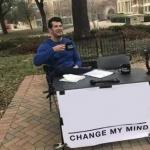 IMAGE DESCRIPTION:
both political parties suck
hotkeys: D = random, W = upvote, S = downvote, A = back