Anyone wanna have a go at explaining how this totally hypothetical (not to mention hilarious) 9/11-themed comment violates TOS?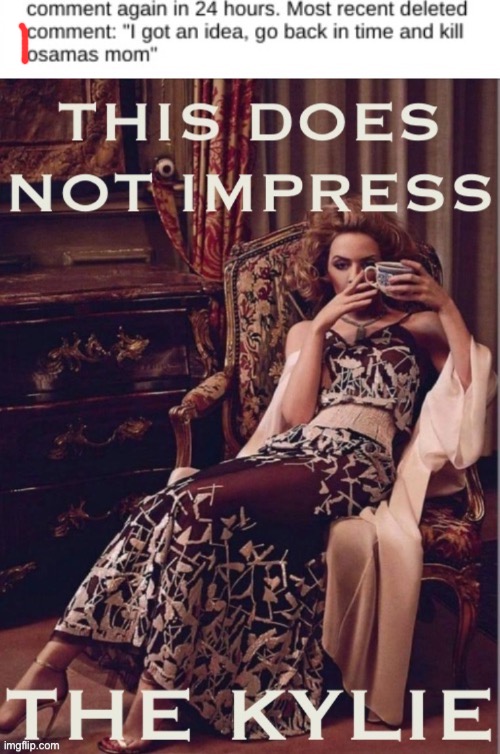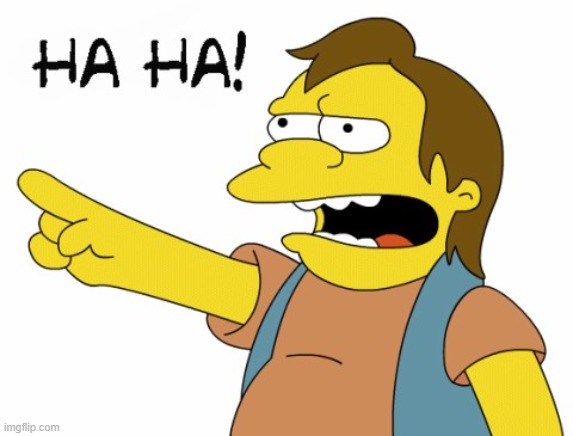 "I got an idea, go back in time and kill Osama's mom" is the quote you wonder about why it was deleted. Because it's a downright death threat towards Osama bin Laden's mother. That's why. At least that must be what the moderator in question must have had in mind. Since the moderator in question was not me, it's always guessing work, as I cannot look into other people's heads.

Loads of communities ban the practice of death threats even as a joke (sometimes with the exception when the threatened person is a fictional person).

Now a few things should always be kept in mind:
- Threatening a terrorist with death is still a death threat, regardless what that terrorist has done.
- Threatening a relative who is (as far as we know) not involved in the crimes is not any better.
- "No one has a time machine" is not a valid excuse. The wish for somebody to die has been pronounced, and that is where the borderline is still crossed.
- Now the comparing to Hitler doesn't work here. Hitler has been dead for decades. As far as I can check Bin Laden's mother is still alive (there is nothing I can find stating otherwise).
- Also note that Bin Laden still has great support, even in death, and that your post can be used against the West in their propaganda. Even though there are still nazist people, posts about killing Hitler will at the current state of things not likely cause that effect. Comparing things is always a dangerous thing to do. Also it's possible the moderator in question didn't see thing. Comparing cases is always a dangerous thing to do.

Now I am just trying to get a full picture of what the moderator was thinking, as I am not in the position to say if this moderator was right or wrong or if I would have done the same thing if it were me in their position. What I do know is that this meme doesn't impress me.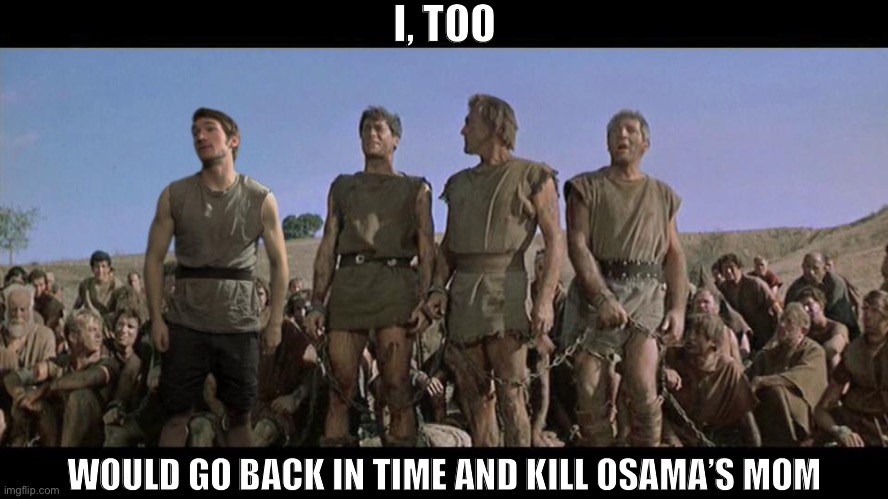 Well, thank you for explaining.

I still disagree and in praxis of my disagreement, I will state for the record that I too would go back in time and kill Osama's mom, and his dad too just to make damn sure, because it would have prevented a whole lot of needless death and suffering both to Westerners and non-Westerners and I'm just utilitarian like that.

However, to be clear, I wish no ill on any of Osama's family (the ones who are not terrorists, anyway) at the moment as what is done is done.

Feel free to flag and bring Mods here to delete as necessary.
I can make the moderators aware. Since I'm not a site mod, it's not up to me to decide. From what I'm told the bin Laden family is one of the most honorable families in Saudi Arabia, and Osama's old man was a businessman even doing business with the Sultan himself, which is quite a position. Osama appears to be merely a bit of, how to call it... a "rotten apple in the basket"... At least that's what people told me,as I am not claiming to be the expert on the Bin Laden family.

All I did was trying to get this from a moderator's point of view.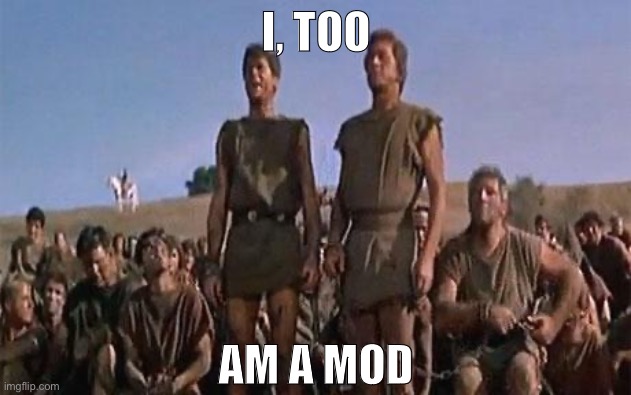 Not and never have been a site-wide Mod, admittedly, but modding as many streams as I do means I have experience making tough calls as well.

I heard bin Laden's family was very wealthy.
Honestly, being a sitewide mod is tougher. You need to deal with reports of trolls, purges, bullies etc.
Indeed: And they also have to deal with gadflies like me who watch their moves like a hawk and try to keep them honest ;)

I have no doubt modding the whole site takes a lot of time and effort.

But is it all that difficult to whack purge accounts when they're brought to your attention — etc.?

I dunno man.

Anyway, we can and should all try to make the ImgFlip community a better place regardless of what title we hold or don't hold.
I know all about it, as I've been a site-wide moderator for a different site. I always wonder why so many people want to be a moderator as it's not a fun job. Sure you may get some respect and people may look up to you, but there's a shadowside, I tell ya.
IKR Youtube, I was a mod on a stream and someone was spamming and I blocked them and my mod was removed like WTF>
I don't have enough information to judge that particular situation.
[deleted]
Well not really, Its a suggestion, and nobody has a time machine,
Then you have to talk to the respective moderator who judged it like that. I only worded how I THINK the moderator in question would have acted. I am not stating I agree nor disagree with this opinion. But I said before "nobody has a time machine" is not a valid excuse. The message can still be seen as an open death wish and then whether the way the death is wished for is scientifically possible or not gets besides the point. Only the question if it is or is not an open wish for somebody's death. And if the message can be taken as a direct threat than the possibility to make the threat happen is also not relevant. A threat is a threat.

The question is only is this an open wish for somebody's death or even a death threat. If you think the answer to that question is "yes" then removal was in order. If you think it was not then the answer is "no". The moderator thought the answer was "yes" and acted accordingly. If you think the answer is "no" then you gotta speak to the responsible moderator.
Thanks for approving this.

I guess the word "kill" triggered whoever thoughtlessly deleted this, but a few reasons this comment does *not* violate TOS (in my opinion):

1. It was an on-topic comment for a meme about how to hypothetically stop 9/11, which -- "never forget!" -- was a terrible tragedy in which many people died.
2. The "threat" if you want to call it that is totally incapable of being realized: no one has a time machine.
3. The comment gets whatever benefit of the doubt humor is worth because the comment is a scream.
4. Historically-significant practitioners of genocide and terrorism get less protection from hypothetical internet commentary. And yeah, technically it was about "Osama's mom," not bin Laden himself (I don't know how culpable his mom was in 9/11, if at all), but come on, that was just funny.

tl;dr the comment is in the vein of "would you go back in time and kill Hitler?", a classic hypo.
Al-Qaeda has infiltrated Imgflip. Do we have an Afghan user?
Al-Qaeda is gone, now its ISIS, who will also be destroyed. Also, thats racist.
Eh, Al-Qaeda comes from Afghanistan so... it's a fact.
I know Afghan people as friends, I know what they would mind.
Show More Comments
hotkeys: D = random, W = upvote, S = downvote, A = back