Government Hoax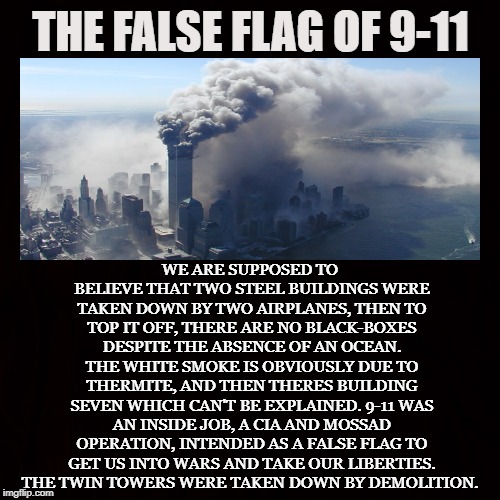 1,764 views
•
2 upvotes
•
[deleted]
All these things have explanations that have been documented repeatedly. Stop getting your knowledge of structural engineering from random conspiracy theorists on the internet.
Building 7 was taken down on purpose.
Wrong, your an idiot sheep, and could care less what you don't believe. lol
1. the 9/11 attacks were not an inside job, however, the USA government knew in advance that it was going to take place. They didnt do anything (most likely to justify the eastern conflicts) and let it happen.

2. smoke from fires isnt always black, it is very often white or grey due to the chemicals in the fire.This can be due to the different materials inside the building rather than the building itself, such as plastics, water vapor, wood and tile.

3. the structural integrity of the towers were already questioned and im pretty sure it was explained somewhere that the towers stability was already faulty, causing the "pancake" effect we saw.

all in all, the towers fell because terrorists attacked it, the government let it happen.

thats it, thats the story.
WRONG! lol But its ok, now that I know it bothers some of you, its going to be an even bigger pleasure to spread this meme around despite you sheep. :P
you keep calling us the sheep, when you yourself are the one asleep.

despite your theories and the hoaxes you spread, the false information will stay in your head.

bothersome? ha! dont make me laugh.

the only bothersome thing is your falsehoods that are trash

your theory holds no water, neither does your brain.

but remember this kid, your ideas are all vain.
That's why you replied right? CAUSE IT BOTHERS YOU! lol In which case I'll keep coming up with more 9-11 meme, for I must be doing something right. HehEheHE
???? ok. And Ill keep debunking them. :)
That's going to be hard, when I spread it all over the place you troll. lol Btw, you didn't debunk anything, you simply disagreed with the truth. :) Now go find a woman.
I don't think crashing into a building at high speeds and then having the building collapse on the plane won't cause damage to the black box. And smoke doesn't have to be one color.
What part of steal buildings did you not understand. A plane cannot take down steal buildings by crashing into them. We are talking science , something the media and most sheep choose to ignore.
Buildings have a MSIL (Minimum Structural Integrity Level) and a CSIL (Current Structural Integrity Level) If the CSIL is lower than the MSIL the building will collapse. A 747 crashing into a building drastically lowers the CSIL. Jet fuel won't completely melt steel but it will soften it which also lowers the CSIL. Both of these combined cause the CSIL to be lower than MSIL which caused a collapse
Bullshit, you want us to believe that two buildings were taken down by two airplanes, when the person who designed it, built it to stand even a hurricane. The way I look at it, you're just some government ass kisser that believes whatever the government tells you. I bet you wear a mask. lol
Show More Comments
EXTRA IMAGES ADDED: 2
DTvUQor.jpg
911.jpg
IMAGE DESCRIPTION:
THE FALSE FLAG OF 9-11; WE ARE SUPPOSED TO BELIEVE THAT TWO STEEL BUILDINGS WERE TAKEN DOWN BY TWO AIRPLANES, THEN TO TOP IT OFF, THERE ARE NO BLACK-BOXES DESPITE THE ABSENCE OF AN OCEAN. THE WHITE SMOKE IS OBVIOUSLY DUE TO THERMITE, AND THEN THERES BUILDING SEVEN WHICH CAN'T BE EXPLAINED. 9-11 WAS AN INSIDE JOB, A CIA AND MOSSAD OPERATION, INTENDED AS A FALSE FLAG TO GET US INTO WARS AND TAKE OUR LIBERTIES. THE TWIN TOWERS WERE TAKEN DOWN BY DEMOLITION.
hotkeys: D = random, W = upvote, S = downvote, A = back