Shame on the Republicans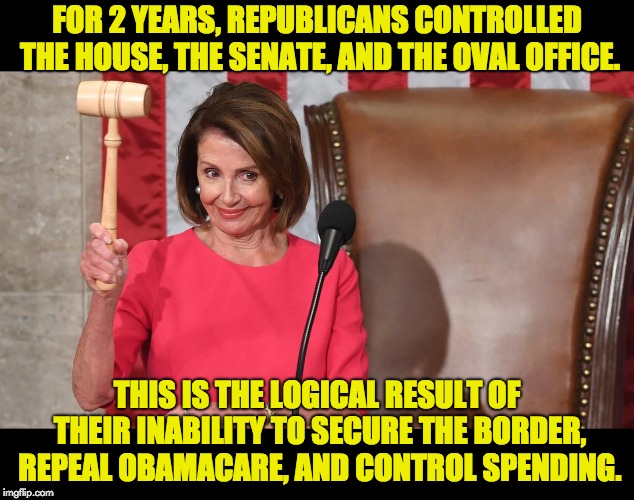 reply
We call them RINOs. Republicans In Name Only.
reply
That is correct. And there are far too many of them. Even when the Dems are in the minority they fight for their principals. Although I am a staunch conservative, from my perspective Republicans hold office while Dems actually govern. It's very sickening to have so many spineless, unprincipled, feckless Republicans in office who say the right things when it is time to campaign, but do otherwise when they are elected.
reply
[deleted]
Someone doesn't know history!

Presidents almost always lose the house and senate during midterms.

Trump had one of the lowest flip flops in congress and is one of the few presidents to actually keep the senate.

Trump had an amazing midterm. All he needed was the senate and he got it.
reply
All I'm saying is that if they had secured the border, controlled spending and repealed Obamacare, then they might not have lost any seats. Or they could have lost far fewer seats. And I am not complaining about Trump. It's the wish-washy weasels in the house and the senate who claim to be conservative, but vote otherwise.
reply
The Republicans lost 39 seats the average for presidents with an approval rating below 50% is 37 Trump wasn't special in how any seats he kept
reply
[deleted]
He kept the senate, that's pretty special.
reply
Yep. He's one of the reasons why I left the Republican Party. The others were Dole, McCain, Mitch McConnel, John Boehner, and a slew of others. From my perspective, the libs want to take us over a cliff at 200 mph. And there are far too many Republicans who think they are doing us a big favor if they go over that same cliff doing only 175mph.
reply
I've been making the case that the Democrats infiltrated the Republican party over the last 20 years after they lost their stranglehold on power. What else can explain the perfect conservative principles campaigns and the liberal votes when they get to DC? I feel bad saying it, but I was really glad when McCain died- he didn't even respect his constituents enough to resign when he was unable to fill the responsibilities of his office for nearly a full year. He had a heroic past, but in the end he was a petty, self serving angry man. A Boohoo Boehner? A digital photo of a hypocrite. Ryan, McConnell, Flake? They compromised to 195 mph. For the good of bipartisanship.
reply
You've got that right. Add to the list Susan Collins and many others.
Show More Comments
IMAGE DESCRIPTION:
FOR 2 YEARS, REPUBLICANS CONTROLLED THE HOUSE, THE SENATE, AND THE OVAL OFFICE. THIS IS THE LOGICAL RESULT OF THEIR INABILITY TO SECURE THE BORDER, REPEAL OBAMACARE, AND CONTROL SPENDING.
hotkeys: D = random, W = upvote, S = downvote, A = back