or vice versa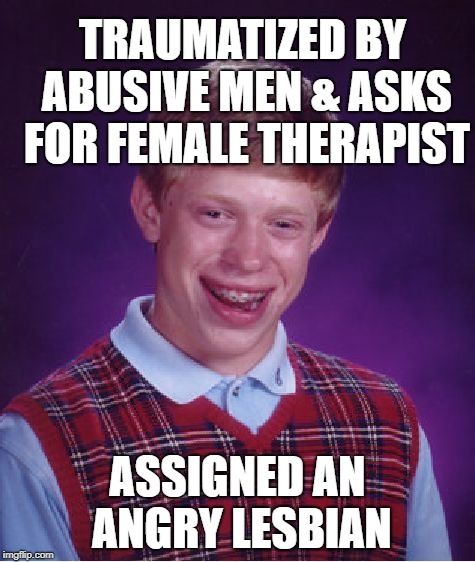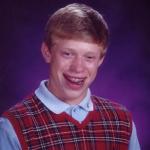 reply
[deleted]
The vice versa recently happened to me--after a few horrible female therapists, I asked for a male and was assigned a gay therapist my son's age who was condescending and told me he "didn't know how to help me" (I was going there for help with autism and PTSD).

When I asked if he knew anyone who could, he said no and told me to "just get an entry level job at a fast food place" and then told me he had canceled my next appointment and given it to someone else who could only get a ride at the same time my appointment was. He didn't even call me first!

The only reason I found out he was gay was that I found his Twitter account (he had also tried to be a model 5 years ago before he went to school for counseling) after I decided not to go back because I wanted to see if my gaydar was on point (it usually isn't).

Apologies to homosexuals who may be offended. I have a wonderful gay dentist I've been going to for almost 10 years and had suspected this therapist was gay but gave him 3 months of my time/life because I didn't want to judge him for his sexuality or age.

Oh and one of the other things he did at the last appointment before I "fired" him was when I complained he gave my appointment to someone else he said soooo condescendingly "But I sat here and listened to you FOR AN HOUR!" as if it were TORTURE for him! Also, every appointment, he sat there looking bored af as I watched him holding back yawns. But, really, as the meme implies, not so much his fault but the clinic's for assigning someone half my age and gay when I asked for a male therapist because women have been abusive to me.

Again, I know this is not a reflection of all homosexual people and that is why I kept giving him more and more chances. I would go to a gay (or lesbian) therapist again because it was also my fault for sticking with him so long but my case manager kept telling me to stay with him when I complained I wasn't connecting with him at all. I should not have taken her advice either--she was Catholic and kept forcing her religious views on me and talking incessantly about her family and taking repeated calls on her cell during our sessions (I fired her too). I should have left after the first month of this bs at this clinic.

PS I use imgflip as a diary of sorts.
reply
It's common knowledge in the field that MANY people who become therapists suffer from mental illness themselves. Therapy - especially "couples" therapy - is very gynocentric and openly misandrous. It's steeped in Marxist ideology, new-age assumptions, and invariably disproved theories. The actual SCIENCE of psychiatry shouldn't be confused with the quackery of psychology, which is predominately practiced by rabid leftist, feminist, gay, female, and anti-white-male Jewish people who are pushing an agenda via their "easy A" degree, as an appeal to authority, where they themselves are held up as the "authority".
reply
[deleted]
Sadly, this seems spot on and "in the moment" I have to agree with you 100%.
reply
You use imgflip as a diary. Wow. But also sry u got such a crappy thereapist
reply
[deleted]
I use it as a "diary of sorts" in that if I'm frustrated or happy, or have a political view, or really whatever life happening is occuring, I'll make a meme (like this one due to frustration) rather than journal it. The frustration of this situation was on my mind so I meme'd it as a way of venting. It's easier than typing in a journal because I have carpal and can't spend tons of time typing anymore. I never thought it would get this many views. Sometimes it's something trivial that I'll meme like when I couldn't find my mango splitter or that my carpal acts up when I'm scrolling through imgflip.

And like Karaokephile said, the "quackery of psychology" runs deep. I have state-funded healthcare and it truly sucks big time. I was way better off doing self-care via YouTube videos and websites than I was going to clinics where I was never assigned someone older than my kids (mine are in their 20s) with little experience. Mostly they just sat there with blank looks on their faces and told me stuff like "write a gratitude journal" or "make a to do list" while they took notes on me like I was some sort of school project.
reply
[deleted]
Ya got me thinking AyrtonSako--don't we all kinda use imgflip as a diary of sorts?
reply
Good point. But I try to stay away from things that actually happened to me. Example, one of my memes made from page two days in a row and was completely false about the actual topic. But now w I understand what u meant about diary
reply
As if there's another kind of lesbian...
reply
Lesbians in movies, and lesbians in real life, are two completely different things. In real life, it's two female humans who look, dress, behave, and sound, exactly like men. Except they don't groom as much as *bachelors*.
reply
I have a bunch of lesbian friends and I can sey that isn't true
Show More Comments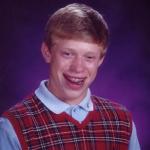 IMAGE DESCRIPTION:
TRAUMATIZED BY ABUSIVE MEN & ASKS FOR FEMALE THERAPIST; ASSIGNED AN ANGRY LESBIAN
hotkeys: D = random, W = upvote, S = downvote, A = back