Even to those you disagreed with, you were respectful and kind. I never knew you, but you were a one-of-a-kind-politician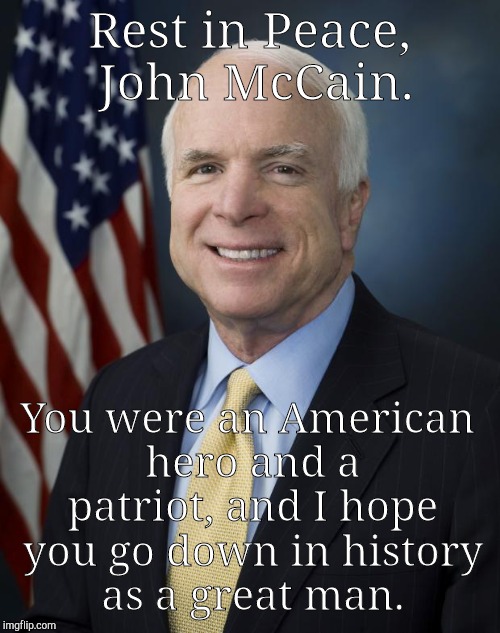 2,180 views
•
13 upvotes
•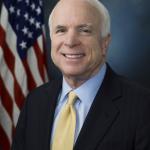 He'll go down as someone who sang to the Vietcong
fought the Viet Cong*

When did you serve anything?
Seriously? The man was a war hero. Oh, and in case you didn't know, he's dead, so show a little respect.
Seriously, what did he do that was so traitorous? He was an American hero. You don't have to agree with him on anything at all (I didn't much at all), but that doesn't mean he doesn't deserve respect.
The man had brain cancer. He ended his treatment of his own accord. So please, try and show a little bit of decency and respect. Not everyone who speaks up against Trump is working for some foreign government or part of a wild conspiracy. And still, I don't see one shred of credible evidence to support this bold statement. It was announced the Friday before his death that he would end his cancer treatment.
[deleted]
And no, I'm not giving him respect. He's literally as bad or worse than Hitler. He helped lay the foundations for WWlll. Thank god and the good people in our government for catching that POS. I would have had to fight in that war and it would have been for a total lie.
Oh, so he's responsible for the deaths of millions of peolle and he's attempted to wipe out entire races, ethnicities, religions, and sexualities? I'd like to know where THAT source is.

If you're gonna make a comparison of Hitler to McCain, then you shouldn't complain when others compare Hitler to Trump. I don't agree with either comparisson, but at least there's some basis to the Trump-Hitler one.
Question 1: Why would McCain bother with faking cancer if he could just shoot himself, if he was comitting suicide?

Question 2: You realize this isn't evidence, right? This is speculation. Nothing more. Trust me, it's good to be skeptical of what you see and to double and triple check your facts. But this is completely unfounded. I still see no reason to believe this. Provide hard evidence across more than 1 credible source, and then we can actually go somewhere with this speculation. Trust me, if you can give me a reason to believe there's something behind this, I'm all ears. But right now, it just seems like the president is listening to the words of a fringe conspiracy group that's gaining momentum quickly, and that even they aren't able to fully back up these claims.

Question 3 and 4, but I'll answer these: Is all of this possible? Yes, yes it is. Is it likely? Not even remotely.
Show More Comments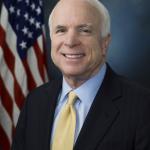 IMAGE DESCRIPTION:
Rest in Peace, John McCain. You were an American hero and a patriot, and I hope you go down in history as a great man.
hotkeys: D = random, W = upvote, S = downvote, A = back