Philosoraptor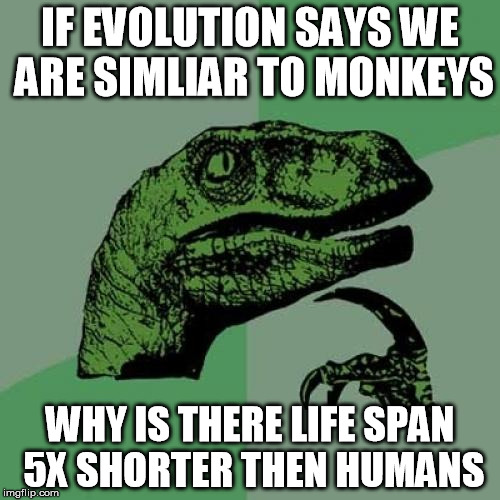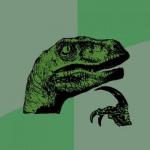 reply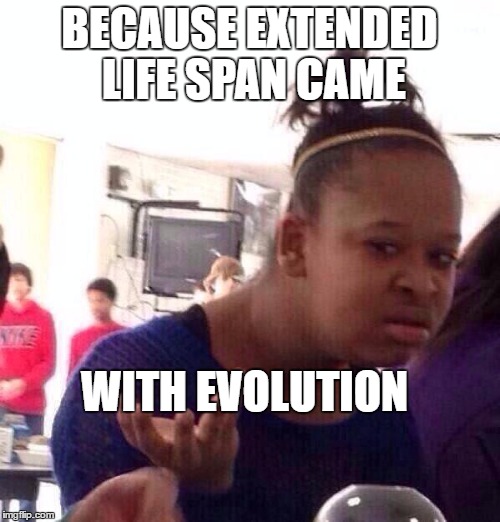 *still upvoting lol
reply
[deleted]
Lol. Why do we walk upright?
reply
That would at some point be apart of the evolutionary ladder. There would always be a gain in every advance. Species only get better in ability due to survival and natural selection used to take care of the rest. Not this idealistic society that's in place. We are so far from natural selection it's a hindrance

Looking at the evolution of the mind would show an increased requirement to be upright in the dominant position because it impacts and influences the species around it making it more successful in most aspects of survival.
reply
[deleted]
If I remember correctly, one of the theories for walking upright was to minimize the sun/heat on the body.
reply
[deleted]
This was to help the aloha male to watch for danger on the plains. Read up oj the Bonobo chimpanzee as they are considered the closest living "relative" to homosapiens.

Even within the homosapiens, there is a lot of evolutionary differences. Enough that forensics experts can tell race by the skeleton alone, before doing DNA tests
reply
I wish I had Swiggys reference, one of many reasons why species survived and evolved.

Look at athletes today against 70 years ago if you have an argument that proves we are getting worse at the things we put our focus into I for one would love to see it
reply
Evolutionist say humans and monkeys are the same but yet we are totally different. In life span, looks,genes, hair, intellegents, and etc. There is millions of reason why humans are not monkeys. Never seen a monkey make a computer,car, rockets and etc. If you were to pick animals that are similar to humans a talking bird would be the closest because they can actually communicate with us. But nooo lol
reply
98.8% of dna match is the scientific view not the aesthetics of a species. I wouldn't expect a monkey that didn't Evolve the ability to stand on its hind legs to go on to master technology
reply
There is no such thing as a talking bird. They imitate sounds. We share 65% of the same sequences of dna of a chicken but I don't see them typing or talking
reply
rofl no talking birds. Look up einstein or griffin parrot. They seem way smarter then monkeys by far. Parrots can actually have small conversations with humans unlike the monkey species. Evoulution theory dethroned
reply
Yes I've seen Einstein but not griffin. They memorise and imitate sounds. They are rewarded for repetition they don't have conversations. Apparently they have a mental age close to that of a 2-3 year old child.

Apes understand emotion, can communicate via sign language, can recognise their own reflection in a mirror and are one of the only other species that have sex for fun and masterbate.
reply
You are missing the point. There is lots of species you can say that have human characterists but they are not human nor will they ever in a million a billion or a trillion years be human capable. Point is a ape is a monkey its not a human being. Stop confusing yourselves all the time.
reply
Look up tuatara and parietal eyes. If you don't believe a species developing a third eye on its head to spot overhead predators is evolution we may be done here
reply
Well than....you have a good point their!
Show More Comments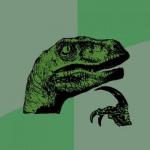 IMAGE DESCRIPTION:
IF EVOLUTION SAYS WE ARE SIMLIAR TO MONKEYS; WHY IS THERE LIFE SPAN 5X SHORTER THEN HUMANS
hotkeys: D = random, W = upvote, S = downvote, A = back