what is the story behind your user name?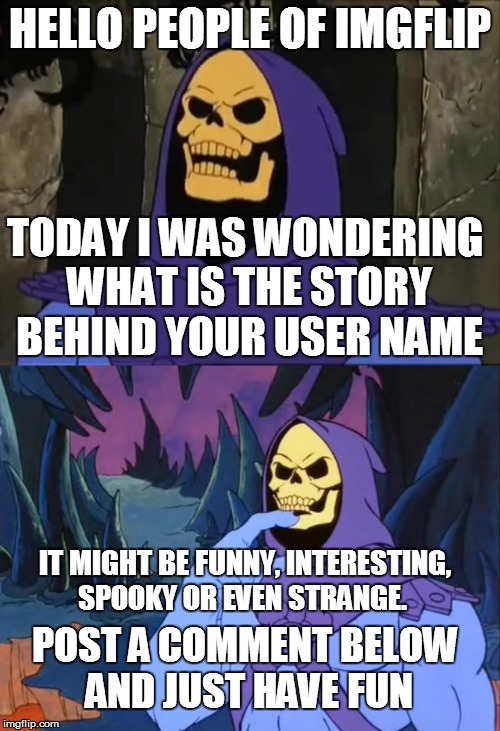 2,304 views
•
57 upvotes
•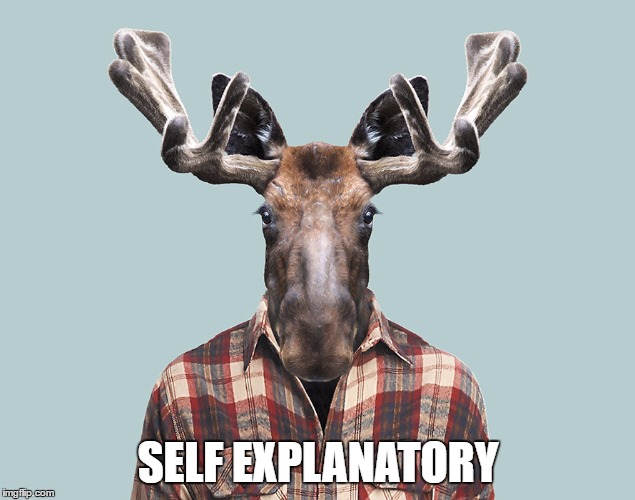 Hunted Alaska moose for food for 30 years ! 684 was my radio callsign number.
[deleted]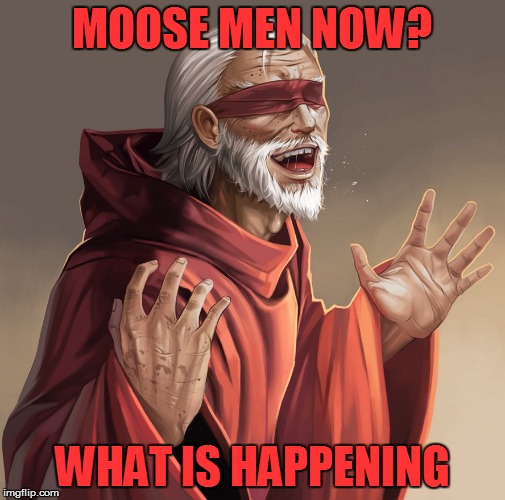 ah interesting
and thanks for joining
[deleted]
Comment should be third from top. Do you mind if I include this in a meme stream for cool community based memes? Or you can post it yourself like Sewmyeyesshut did with his "Where Are You From" meme.

https://imgflip.com/m/community_based
[deleted]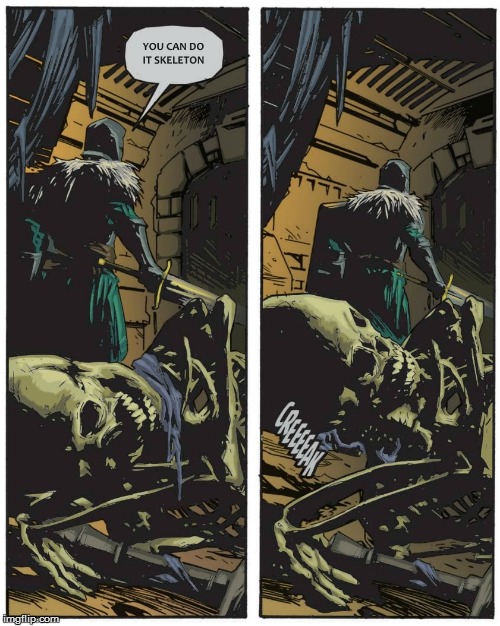 Wow this sounds brilliant
yeah go right ahead I be honoured if you do so
[deleted]
Rock on, thanks for posting it!!!
[deleted]
hey no problem
this idea seens very nito and I am glad to help :D
[deleted]
My classmates started calling me that when I was 13. I've used it both socially and professionally.

You'll also find it listed in the Urban Dictionary.
[deleted]
that's interesting and thanks for joining in :)
[deleted]
No, but for years I was known as Pastor Swiggy of the church of SPAM
[deleted]
I see SPAM
I think of the food
[deleted]
My vestments weren't quite that ornate, but...

This was back in the early days of the internet, when it was accessed with a 54.4Kbps dial up modem.

The good people at Hormel allowed me to carry on my site without any interference. This was at a time they were shutting down Soam pages right and left. But then, how could they threaten a site that not only was e deciding it's first amendment rights, but also sang the praises of their major brand. I actually had a WAV file is the song Amazing Spam on the site. I don't have access to it at the moment, but should by the end of next week.

Hmmm, that's a video I need to put together.
[deleted]
now you just making me think about old and funny youtube songs
https://www.youtube.com/watch?v=A_6zEe3ss80
here's one that show's the strange old days of youtube ah I miss them days
[deleted]
LOL yeah,some weird videos back when.

I'm self taught in making animated GIFs, so I put several of my old GIFs in video format. There's others there, bit since we're on the subject of weird, here's the link for My Weird Video.
https://m.youtube.com/watch?v=-3T8ifw_zW4

And, yes, that's me introducing the video.
[deleted]
ok that's really strange
some parts of video make think of a youtuber called "cyriak"
if you want to see what he do then look at these two videos
https://www.youtube.com/watch?v=toe-8ykTUT8

https://www.youtube.com/watch?v=CBBvXth-O_g

oh and his one more just for fun
https://www.youtube.com/watch?v=tnWP2Emps1M

and yes these videos are insane and mad and that's why I like them
[deleted]
I grew up in the 60s: this was the norm.????

I put together my stuff from various still pics. The roller coaster bike ride and the skate board ones were the most fun, although the cathedral bouncing the moon is up there.
[deleted]
I mean "oh and this one just for fun"
Hopefully you do some cool stuff for us here at Imgflip! BTW, I can't help but feel like we probably crossed paths back in the day on Compuserv or AOL, your mentioning of animated gif and wav files took me back :)
[deleted]
Maybe AOL in 94. Never did CompuServe, but I was a Member Rep on Prodigy.

Them, of course, I still have Usenet. I won't say impotant to the various services, but every time I've taken a sabbatical from such, a lot of folks leave and no one replaced them.
LOL, that weird video was worth going through the long roll of comments on here to find.
[deleted]
Thanks. I'll be getting a working computer in a few days, so I can get back to my graphics work.
[deleted]
Thanks, John. I'm supposed to be getting a working computer this week, so I can get back to my graphics work.
[deleted]
Swiggy, if it weren't for a local guy putting up a wifi transmitter on a nearby mountain a straight shot from us we'd still be on dial-up. I ran businesses at 32kbps for over a decade. And my name is Rose and I'm a tinch last of summer thus my username.
[deleted]
I've actually considered moving to Chattanooga, TN, because of their internet service. It's a municipal service +local government owned and operated) that costs substantially less than the cable companies and the speed is crazy: now measured in Tbps. Yes, that's Terrabyte.

Finances have me choked, now. But that should change later this year.

Meanwhile, check up on what Chattanooga did. There may be fed $$$ in it to build a blasting system better than the current ISPs provide. It's also good for attracting high paying tech jobs.
[deleted]
We are so out of the way that nobody is interested in connecting the infrastructure. Verizon came to the county in 2012 fiber optic cable was laid, Verizon was bought out by Frontier, and Frontier has no plans to get anybody hooked up to a cable mere yards from their homes. Eastern Tennessee a few miles to our north is a internet dead zone. Nothing available there but dial up. Or crappy satellite and that's a no go here, we have a bad los
[deleted]
That was why Chattanooga did what it did. A developer also saw a similar problem by the TN-GA line, and followed Chatanooga's lead and put in his own internet service.

You cannot rely on large corporations to meet your needs. There's a long history of denying tech to the masses that dates back to the 1800s. If you check your phone bill, you'll discover there's a federal tax there that goes to small phone companies and other communications co-ops that service otherwise unserviceable areas.

Right now, you're in the catbird seat and don't realize it. It's not something you can do overnight, but it's doable.

Here's the link that got me started. http://money.cnn.com/2014/05/20/technology/innovation/chattanooga-internet/

Like I said, there's federal money in it to help. Talk to both your state and federal reps. They'll be looking for campaign contributions, but they have to hear you out, by law. The reps that help out this through are going to be the ones that benefit from happy constituents.
[deleted]
I wonder if the series is still going?
also thanks for joining in
[deleted]
From my understanding, yes.
[deleted]
Wow I am surprise it's even still going
[deleted]
How many people read these threads daily and almost all behave themselves.
[deleted]
Basic question was : can we report trolls?
[deleted]
If they violate TOS you can try, but I've zero success reporting memes with blatant violations of TOS. Then there's Chakotay and before him TedCruz, despite hundreds of downvotes their accounts remained active.
[deleted]
Gotcha. Just such bad sportsmanship.
[deleted]
It really is sad that people put such effort into trolling someone for whatever reason.
The series is still going. It's on it's 14th season now.
Show More Comments
EXTRA IMAGES ADDED: 1
IMAGE DESCRIPTION:
HELLO PEOPLE OF IMGFLIP; TODAY I WAS WONDERING WHAT IS THE STORY BEHIND YOUR USER NAME; IT MIGHT BE FUNNY, INTERESTING, SPOOKY OR EVEN STRANGE. POST A COMMENT BELOW AND JUST HAVE FUN
hotkeys: D = random, W = upvote, S = downvote, A = back