Liberals overlook things 1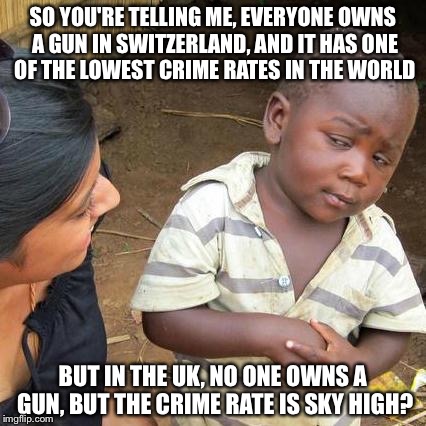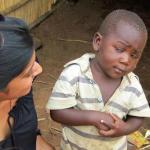 reply
[deleted]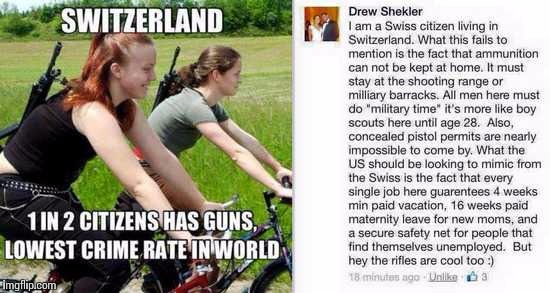 reply
[deleted]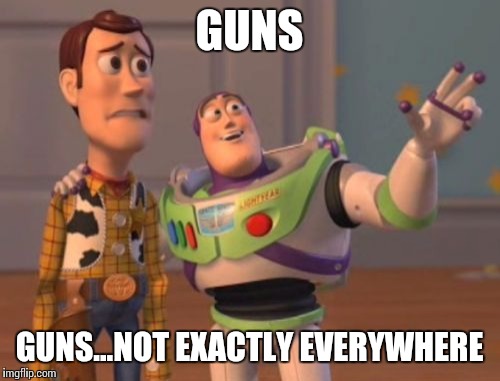 http://www.washingtonpost.com/news/wonkblog/wp/2012/12/14/mythbusting-israel-and-switzerland-are-not-gun-toting-utopias/
reply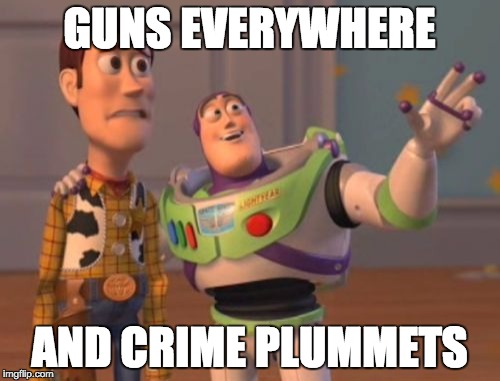 Actually guns ARE everywhere
reply
[deleted]
I guess if we had mandatory conscription for all men in this country more people would be ok with them keeping their weapon. As the article says...they have the guns to protect the country. Not protect themselves FROM the country as we think we need to here. Also it seems most guns they keep are rifles. And they are very regulated. It's just a very different scenario than here. http://www.bbc.com/news/magazine-21379912
reply
Yes, a completely different scenario. We went to war against the UK because they sent soldiers to confiscate our weapons in Boston ... thus the "shot heard 'round the world."

Just remember, there are only three reasons the anti-gun crowd wants such tight controls. It has NOTHING to do with safety.
1. They believe gun owners are too stupid to own a gun (and ammunition)
2. They believe people are too mentally unstable to own a gun (and ammunition).
3. The believe all gun owners are irresponsible, trigger happy cowboys who just can't wait to draw and fire.

The fact is, according to the U.S. Department of Justice and the Pew Research Center (both obvious crackpots under hypnosis by the NRA), as gun ownership has skyrocketed, gun crime has plummeted.
http://www.forbes.com/sites/larrybell/2013/05/14/disarming-realities-as-gun-sales-soar-gun-crimes-plummet/
reply
[deleted]
And let's not forget Switzerland is a socialist country as the person mentioned in my post above. Free healthcare and college. Maybe thats why they have low abortion rates. Should we follow their lead there too?
http://www.swissinfo.ch/eng/fertility-matters_the-secret-of-switzerland-s-low-abortion-rate/33585760
reply
Yeah sure. We have PLENTY of cash in the public treasury, no debt, no crumbling infrastructure, etc, etc, etc, etc, etc ... la la la la
reply
[deleted]
I love my guns. So does this guy. And we are responsible gun owners. Please watch ALL of it.

https://youtu.be/YN6rjamk0Q0
reply
In Switzerland the military service is compulsory and they get to keep their service rifle after they finish. I think because of this the young Swiss are a lot more mature about having a gun than the average young person in the UK would be.
reply
i.imgflip.com/sorsa.jpg (click to show)
The US media is very quiet about crime trends in the UK and recently disarmed Australia.
reply
Other countries do not have a constitution like ours. Other countries must like our constitution,... they migrate here,.. I don't see US citizens migrating to other countries by the hundreds of thousands.
reply
Because the are stupid and corrupt like us
reply
[deleted]
The point that im making is that why would people vote for them if they didnt want it. In Canada, we have the Libertarian party, they are essentially american republicans, and they get barely any votes, because they stand for some that seems crazy to us
reply
The only people that have guns are the bad ones, if everyone owned a gun, no one would murder because of fear of being murdered by the citizens around them or their victim
reply
Invictus,.. I agree with you. When someone is kicking in my door, f#ck calling 911. They wont get there in time. The problem is not guns, its this lawless thug culture that exist in liberal run cities. Baltimore, Detroit,.. Chicago, LA, St Louis,.. DC,... and which party does the mayor of thos cities belong to? YEP! They also have EXTREMELY struct gun control laws. The only thing these cities managed to do, is disarm honest citizens. Criminals by nature,... will never follow the law.
reply
https://www.youtube.com/watch?v=B5ELyG9V1SY
Show More Comments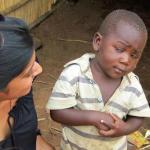 IMAGE DESCRIPTION:
SO YOU'RE TELLING ME, EVERYONE OWNS A GUN IN SWITZERLAND, AND IT HAS ONE OF THE LOWEST CRIME RATES IN THE WORLD BUT IN THE UK, NO ONE OWNS A
hotkeys: D = random, W = upvote, S = downvote, A = back