The Great Reset is a conspiracy fact. Theories don't cause inflation and food shortages.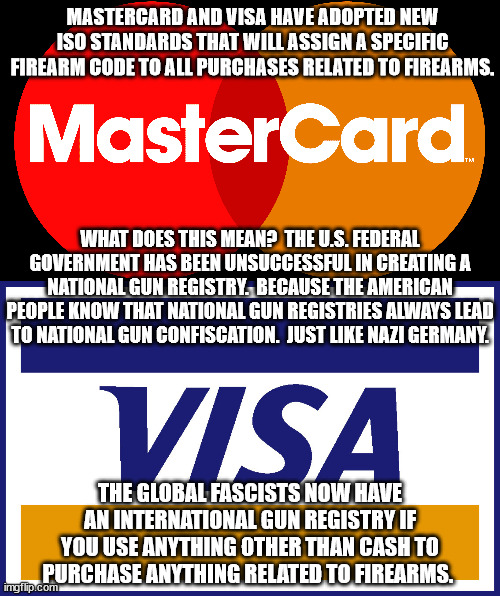 Up-voted. Cash only for weapons and ammunition, aye. Of course this also explains why leftists now are DEMANDING that the United States switch over to a cashless society -- electronic transactions only . . . and for EVERYTHING.
[deleted]
I am in the last chapter of Glenn Beck's book, The Great Reset. Based on the quotes from people who work at the WEF and the IMF you are absolutely correct. They are planning a global digital currency. They will know everything you purchase. They will also control what you spend your currency on.

This is the prelude to "You will own nothing and you will be happy" and "you will rent everything". They have a very bizarre idea of what happiness is. Notice how their comment isn't about your own "pursuit of happiness", it is about what they have determined will make you happy.
Glenn Beck is a raving maniac.
[deleted]
Did that make you feel better getting that off your chest?

Yeah, I know. I've seen the left's compilation video of Glenn Beck acting crazy. And if it wasn't for the fact that I've listened to him off and on for several years I might think he was a raving maniac also.

But the problem with your prejudice is that his book is very well footnoted so that you can look up all of the people he quotes in his book. Plus all you really need to do is go the WEF website and look up the Great Reset and dig around at the gazillions of articles they've posted. Read a few of them and then think about what they mean is real terms. Not the climate change BS that they are hiding behind, the changes they want to make to how you live your life.
[deleted]
Rather than letting this bring anyone who is pro 2nd amendment down, like this be a call to a sort of call to arms. Not to actually take up arms but to fight back by never using your Mastercard or Visa to purchase anything that you do not want the global fascists to know about. They're goal is that you own nothing but in the interim you can at least hide from your purchases from them.

Save up cash and use cash for your major purchases.

Make no mistake, these are fascists. The left tried to redefine fascism as racism but fascism is a marriage of selected businesses and government. We have had a similar marriage in this country when the Progressives got power to influence our government. That marriage is Corporatism. It used to be called Mercantilism by our founding fathers. Corporatism is the forerunner to fascism.

The World Economic Forum is leading this global fascism but they are certainly not alone. The UN and the International Monetary Fund are just as committed to it. And I believe that China and Russia are behind it as well.

How we can fight this is supporting the Convention of States Movement (https://conventionofstates.com/). Their goal is to use Article 5 of the Constitution to get a Balanced Budget amendment added to the US Constitution. This is now more important than ever. It hamstrings the Federal Government from the radical spending that is needed to fund the Great Reset.

Joe Biden is 100% behind the Great Reset. He has said it and so has John Kerry. The Great Reset is the collapse of the global economy and out of the ashes they will Build Back Terror. The Resetters are not talking about removing nations or realigning borders. They just want to end capitalism all over the world.

Capitalism is based on freedom. It cannot work outside of a free society. The people must have complete freedom of choice to make capitalism work at it's best.
I agree . . . well stated.
Cash is king. Especially when it comes to firearms and ammo.
Show More Comments
EXTRA IMAGES ADDED: 1
MasterCard-Logo-1979-1990.png
visa-logo.jpg
IMAGE DESCRIPTION:
MASTERCARD AND VISA HAVE ADOPTED NEW ISO STANDARDS THAT WILL ASSIGN A SPECIFIC FIREARM CODE TO ALL PURCHASES RELATED TO FIREARMS. WHAT DOES THIS MEAN? THE U.S. FEDERAL GOVERNMENT HAS BEEN UNSUCCESSFUL IN CREATING A NATIONAL GUN REGISTRY. BECAUSE THE AMERICAN PEOPLE KNOW THAT NATIONAL GUN REGISTRIES ALWAYS LEAD TO NATIONAL GUN CONFISCATION. JUST LIKE NAZI GERMANY. THE GLOBAL FASCISTS NOW HAVE AN INTERNATIONAL GUN REGISTRY IF YOU USE ANYTHING OTHER THAN CASH TO PURCHASE ANYTHING RELATED TO FIREARMS.
hotkeys: D = random, W = upvote, S = downvote, A = back