Happy and Healthy Holidays Everyone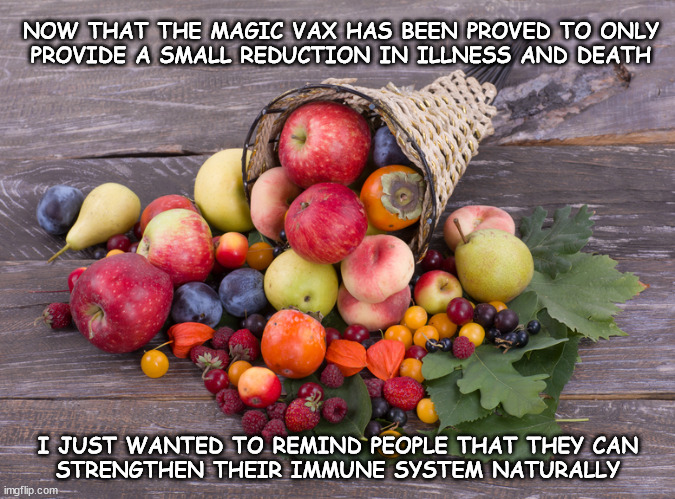 "small reduction"?

I mean, yes eat healthier and exercise, but it isn't a small reduction.

The case reduction does wane after a few months, but the reduction in likelihood of death remains.
About 60% were asymptomatic before the vax was even available. About 95% of the severe illness and death is in people with underlying conditions and comorbidities which were mostly all related to poor diet. Hypertension, Type 2 diabetes, and congestive heart disease, in that order are the top 3. If people had eaten better and exercised the last 18 months, this thing would be over. You must be listening to the "experts" and not doing your own research so you can tell if they're lying or not. Pfizer is spending all kinds of dough to sway public opinion. I'd rather be unvaxed and healthy than 450 pounds with both jabs and all boosters I can get..
You should look at the number of cases vs the number of deaths in the UK this time last year vs now. Cases are high again - deaths aren't. https://www.worldometers.info/coronavirus/country/uk/

I'm not sure at what point you concluded that the experts said don't worry about diet and exercise, because I'm pretty sure they didn't.

Lots of people have one comorbidity or another, so 'this would be over' is arguable. Could they have pushed for it harder? Sure, but given that people pushed back on everything else, I'm unsure how that would have gone. https://www.health.harvard.edu/blog/does-exercise-help-protect-against-severe-covid-19-202106092475

I think we'd be in a lot better position if people had social distracted and worn masks in earnest since no virus can survive long without being transmitted. Instead, we had some doing it and some not which was about as effective as fixing most of the holes in a boat. The people who don't do their homework always complain the loudest that the teacher is unfair.

But we can't know what might have been in either case.

Pfizer advertising - welcome to the free market. They only started that on August though.

I'd rather be - sure, but it's isn't a game of would you rather. I'll take exercise, a healthy weight, and vaccinated, thanks.
Show More Comments
IMAGE DESCRIPTION:
NOW THAT THE MAGIC VAX HAS BEEN PROVED TO ONLY PROVIDE A SMALL REDUCTION IN ILLNESS AND DEATH; I JUST WANTED TO REMIND PEOPLE THAT THEY CAN STRENGTHEN THEIR IMMUNE SYSTEM NATURALLY
hotkeys: D = random, W = upvote, S = downvote, A = back