Add this to the list of things that are weird abt me :D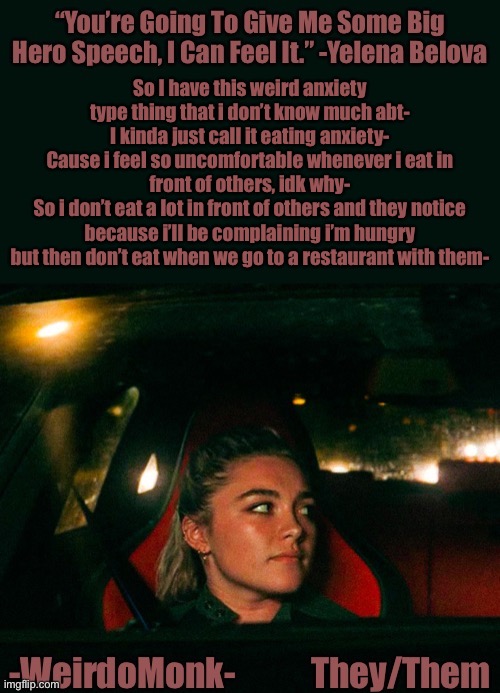 Hi Spooky_Monk

A lot of phobias or extreme aversions has to do with some form of a negative to a traumatic experience in early childhood.

For example some might be afraid of water, either because they watched too much horror movies involving water or one nearly drowned to death. Others are afraid of dogs because of a sudden loud bark giving them a bad impression of dogs or have seen a vicious dog attack.

Maybe in your case, you might have had a negative experienced which from then on made you self conscience or fearful of eating before people.
I don't believe that I've had any negative experiences while eating that might make me uncomfortable to eat in front of others.
Interesting. I might do a bit of research on that as there are others who may have that same discomfort as you do.
I've heard that this can be a symptom of anorexia
i've actually thought that i have anorexia since I believe I'm too skinny and get insecure about my weight and i try to eat a lot though
[deleted]
Do you you think its gross or rude when you eat with people?
Idek, I just get really uncomfortable eating with others and get really insecure-
Show More Comments
IMAGE DESCRIPTION:
So I have this weird anxiety type thing that i don't know much abt- I kinda just call it eating anxiety- Cause i feel so uncomfortable whenever i eat in front of others, idk why- So i don't eat a lot in front of others and they notice because i'll be complaining i'm hungry but then don't eat when we go to a restaurant with them-
hotkeys: D = random, W = upvote, S = downvote, A = back