conservative cancel culture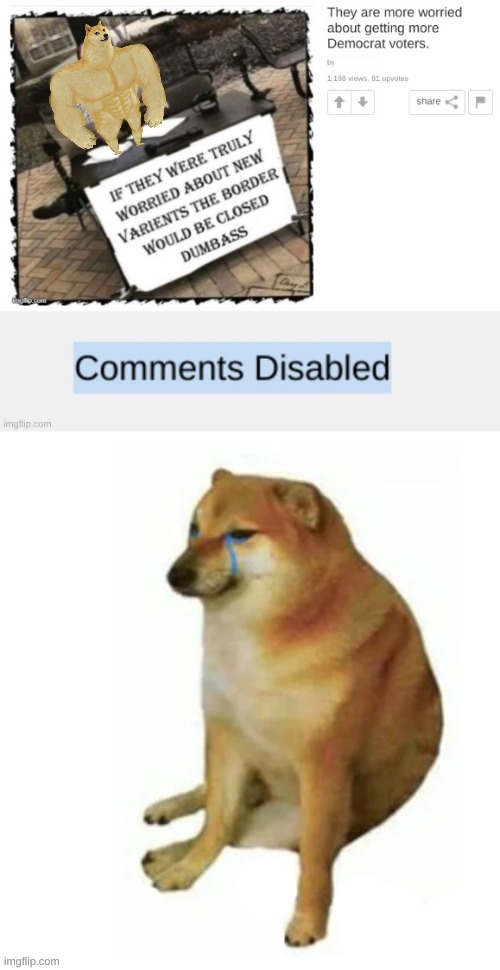 [deleted]
"google is liberal" they say LOL
Comments disabled because facts don't care about trumpists' feelings.
I know you covered up the username, but I have a feeling it's that guy who disables comments on EVERY SINGLE ONE of his memes!
[deleted]
mad that conservative hypocrisy has been exposed or something?
Conservatives can't be hypocrites?
[deleted]
they're actually pretty good at it :)
[deleted]
what are yall hiding when you disable comments? what can't you face?
What lies have we spread?
*gets popcorn*
[deleted]
the round earth conspiracy theory for starters.
Mad that brown people exist or something?
Wow your attempts to defend that shitty meme are weak.
"Change my mind" the template says . . . how possible when comments are disabled?
Oh my gosh, STOP TAKING THE INTERNET SO SERIOUSLY. It may say "change my mind" but it does not have to mean they actually want you to change their mind. Good Lord.
They don't want facts to change their feelings. No COVID variants have originated in Mexico. Every American state along the border has a higher rate than the Mexican states to their south, and the U.S. as a whole has a higher rate than Mexico.

The meme implies the opposite of the truth. Mexican immigrants are endangering their own health by coming here, not ours.
That's true, and also tragically trivial. I realize that MOST people who use the template don't want their minds changed (so few people do), but it is full of extra yummy hypocrisy in this particular case . . . . and deserves to be mocked.
[deleted]
why disable the comments? can't stand criticism?
Show More Comments
hotkeys: D = random, W = upvote, S = downvote, A = back