(Sounds like a South Park Episode) Nazi's Family involved in vaccine passport in UK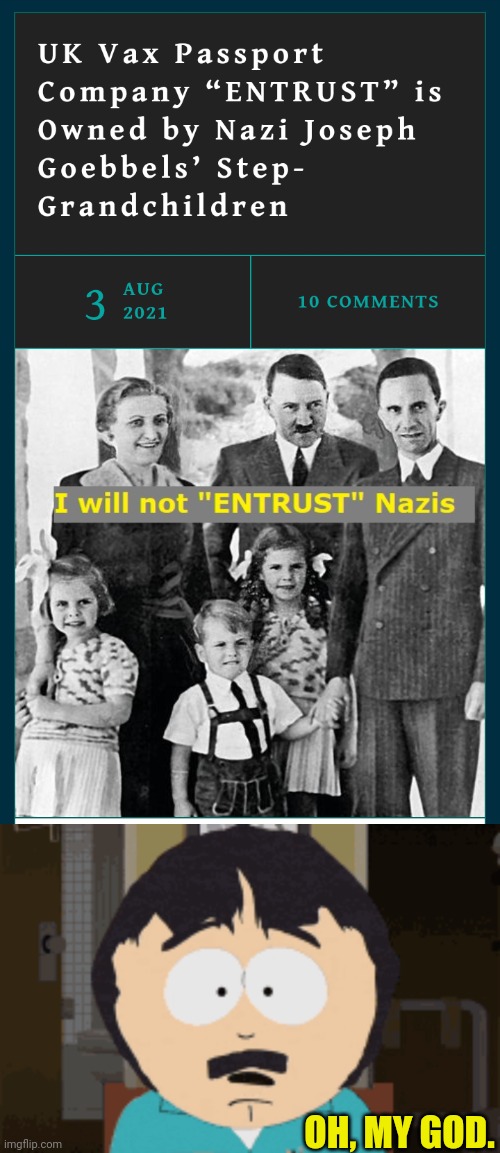 Weird... It's almost as if they are planning another Holocaust.
I mean, I imagine Jewish decent Germans didn't think anything was off for a long time too. To them, it was just a bunch of rabble forming a new political party. Then it was just a bunch of disinformation and censorship... Then it was just having to wear a star to show who you were. Then it was just about showing various passports. Then it was just a train ride to a new place that was advertised by Hitler as a great camp.

Then it was just hoping the rest of the world would stop the Nazi Socialistic folks.

Sorry not sorry - the democrats in power and the groups running around rioting and looting.... Censorship, passports, blaming a group of people for all the problems (instead of Jews it's Republicans and Trump Supporters getting blame), gathered power by reaching out to the disenfranchised.... The modern Democrats in the US aren't far off in comparison to the groups that would be come the Nazis in Germany.

It is literally going to take rounding up republicans and non vaccinated and trump supporters - before you believe it.
When modern conservatives loot and riot for a year, over something they blame on democrats... When they actively use censorship (so far it's democratic big tech doing that). When they forcefully make people buy things or do things (Obamacare - vax passes).... Then you could say they are doing a lot of the same things.

For now - they do blame most of the problems on Dems. But Dems are creating more of the problems... For now. As boomers die off and a generation of function is replaced with generations based in feelings - the nature of society will move towards emotional decisions. When emotional decisions are being made - folks more functionally motivated will start to be seen as road blocks. Like the Boomers are being seen as today.

Generation X will become the new boomers though - because Generation X is the next oldest generation with ties to Boomer ideals.
Because same sex marriage and abortion is an abomination. Unborn lives are still lives, and are human, they have the right to live, if you don't want a kid, then give birth to them and give them up for adoption! It's that simple, and same sex marriage is unholy, and SHOULD be banned.
Nazi (exists in bloodline)
Trump supporters if they're trump supporter (ignores)
Trump supporters if they're not trump supporter:
Show More Comments
EXTRA IMAGES ADDED: 1
Screenshot_20210809-041532.png
tenor (3).gif
IMAGE DESCRIPTION:
OH, MY GOD.
hotkeys: D = random, W = upvote, S = downvote, A = back