They've run the numbers and it's true!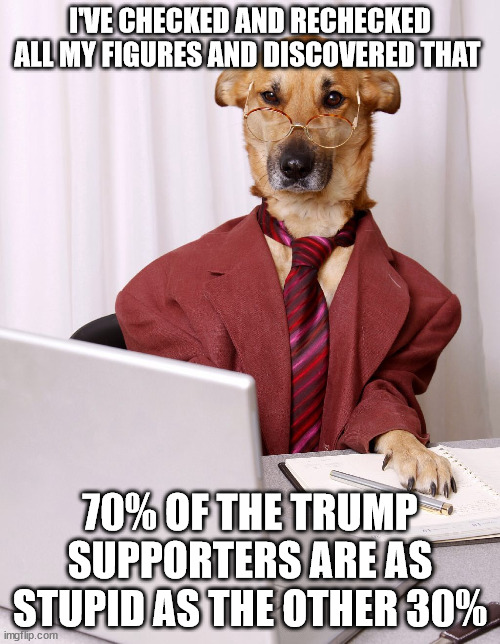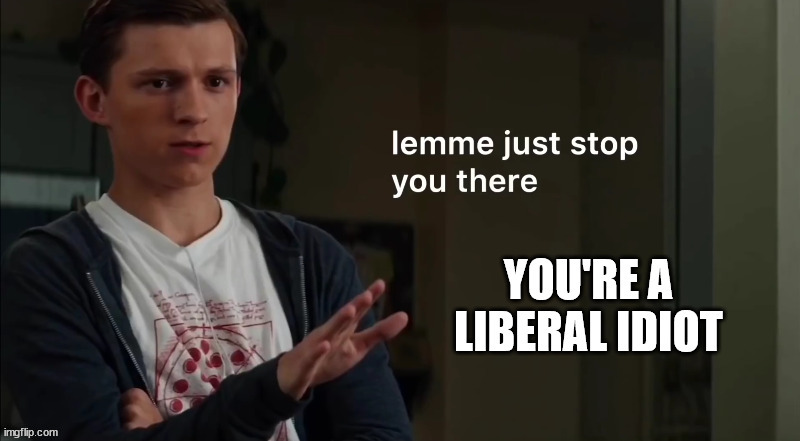 Not sure if you're part of the 30% of the Trump supporters that are stupid, or the other 70% of the Trump supporters that are just as stupid.
[deleted]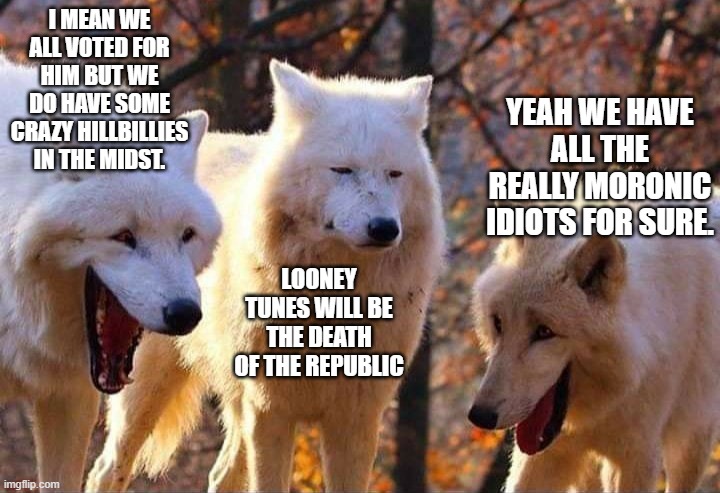 Even though I voted for Trump I must admit this is a decent meme. Rare for a liberal. I will upvote on that premise alone.
Thanks. The GOP is going to have a problem in the future, though, as they look at party loyalty first and governance of a nation as a secondary attribute.Likely a good reason why when the Dixiecrats went to the GOP in the 70s, the Democrats were good riddance to bad garbage. The only way I can see the GOP surviving is to accept A democrat in the oval office for a decade and actually spin off a valid 3rd party: either a dedicated 3rd party or align themselves with the Libertarian party.

Right now, it's in the hands of the true Republicans. When the most sensible person in the party is Mitt Romney, that shows that the party of Lincoln has gone off the beaten path.
[deleted]
You are very right. There are VERY few actual conservatives left in the party. Democrats on the other hand are so very left they are no longer the party that had JFK and his kind in it. Both sides have their crosses to bear. I say that in a political sense not a religious sense. God Forbid we anger the bible thumpers.
When the DIxiecrats moved towards the GOP in the 70s, true conservatives tried to keep the party on an even keel, but they already started seeing problems. A lot moved over to the democratic party to get away from the right wing-nuts. The more liberal of those conservatives went to the Libertarian party or went independent. By the last decade, the GOP was overrun with TEA partiers, which lead to the problem they now have of them being the party of Trump. Today, the party stands simply for obstruction. Heaven help us if we are ever attacked again. The last time it happened it took 2 years to retaliate, and then our military was sent to the wrong country! The problem is that the current GOP only thinks of the party first, doing something positive for the country is only a minor afterthought.

The progressive movement of the Democrats is a return to what that party once was. The party of FDR, JFK, and, yes, even LBJ.

I know people think Biden is blowing through money like it's nothing, but considering the damage this country has suffered under the GOP, it's something that has to be done. Our infrastructure has been ignored for decades, and now we're having to pay the price.
[deleted]
Well the infrastructure was ignored throughout many Presidents to be fair. Bush, Clinton, Obama, Trump. I mean they all seem to prioritize their pet projects most days. There is a void both parties have created by going so far right and so far left. The next few elections will be more moderate members of both parties I do believe. I however plan on skipping them for quite some time. IF this is the best we have then we are surely doomed. That is from BOTH parties they both have huge voids to fill and huge issues inside their own parties. They both have forgotten what they once stood for. In the past they could at least work together to preserve the Republic. Not sure that is possible anymore. Seems to me the highest bidder wins the day now in politics and that very well could be what kills America. Greed. It was never meant to be Red White and Green but sadly it has become so. If that does not change the writing is on the wall.
Well, it was ignored for a lot longer than that: dating back to at least the late 60s to "cut government spending" during the Nixon era. Ford came into office with a country in turmoil as we were in a recession that basically lasted from 1971 to 1995 Yeah, it was put on the back burner because cutting taxes on the rich was more important to the conservatives in power.

Every democrat since FDR has faced the same problem coming into office after a GOP administration: unemployment. FDR did it with his infrastructure programs like the WPA. When they leave office, unemployment is usually lower (Caveat: the unemployment roller coaster of Carter's administration ended up with the same unemployment rate as he started with: not better, per se, but not worse. His focus was on getting the country back to work. An infrastructure program would have helped, but it didn't happen. Reagan and the Bushes had no interest in it. True, unemployment was lower when Reagan left office than when he was elected, but almost all gains were lost by the time Clinton came to power. after 20 years of recessions, he easily won by saying, "It's the economy, stupid!" It took 3 years before unemployment was lower than when he took office so that by the time Dubya took office, he started with it at 4.2%. Tax breaks and an unfunded war, along with deregulation, meant Obama came into office with it sitting at almost twice as much. How much damage does a republican administration do to our employment? Just like with Clinton, it took the Obama administration nearly 3 years to turn it around. By the end of his eight years, it had dropped from 7.8% to 4.8% when Trump took office. Did that administration do a good job? Well, it only took Trump 3 years to destroy those gains.

Now Biden is pushing for the infrastructure correction, long overdue. One reason is to bring about jobs with livable wages. Corporate heads are exploding because they can't find slave labor to do the work, as a former poster here pointed out (see meme)
How Cyber Ninjas, how is that AZ recount/audit going? Found any Chinese bamboo paper yet?
Show More Comments
IMAGE DESCRIPTION:
I'VE CHECKED AND RECHECKED ALL MY FIGURES AND DISCOVERED THAT; 70% OF THE TRUMP SUPPORTERS ARE AS STUPID AS THE OTHER 30%
hotkeys: D = random, W = upvote, S = downvote, A = back