Did you know...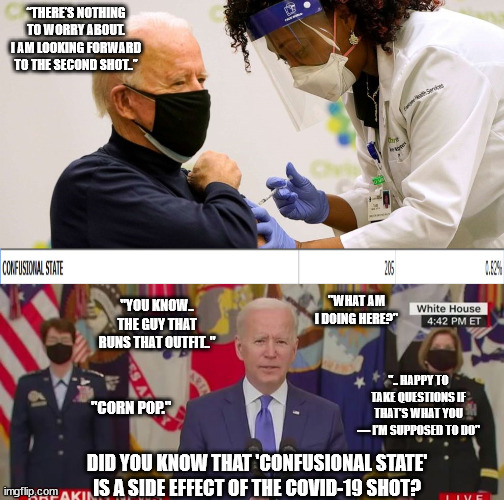 [deleted]
this meme is trash and so are you. you've got no evidence. looks like your just making shit up. f**k you.
No evidence, minus the stats on the CDC government website. Lol nice try.
[deleted]
all that is on the cdc web sight? well now that you have it all in that stupid meme it looks like the case is gonna crack right open! f**k you
The fact that "Confusional State" is a side effect of the Covid-19 vaccine? Yes, that is on the CDC webSITE.
You lose, thanks for playing!
Show More Comments
EXTRA IMAGES ADDED: 1
biden-vaccine-02-gty-jef-201221_1608582937308_hpMain_16x9_992.jpg
Biden-forgets-name-of-defense-secretary-CNN-screengrab-e1615241545692.jpg
IMAGE DESCRIPTION:
"THERE'S NOTHING TO WORRY ABOUT. I AM LOOKING FORWARD TO THE SECOND SHOT.."; "WHAT AM I DOING HERE?"; "YOU KNOW.. THE GUY THAT RUNS THAT OUTFIT.."; ".. HAPPY TO TAKE QUESTIONS IF THAT'S WHAT YOU — I'M SUPPOSED TO DO"; "CORN POP."; DID YOU KNOW THAT 'CONFUSIONAL STATE' IS A SIDE EFFECT OF THE COVID-19 SHOT?
hotkeys: D = random, W = upvote, S = downvote, A = back