Don't forget Russia.
Documents typed up by Killary and fed to the deep state is always a trustworthy source of information.
Hypocrisy is the Democratic parties motto
Not trying to step on your toes here Oct, but The senate was republican and Obama was a democrat, historically when those two differ , they don't would not allow picks to go through. Trump and senate was the same party , of course they let trump make a pick. BTW, if Ginsberg actually cared about her seat being filled with a new young liberal judge by Obama, she should have stepped down and not die in the seat, she could have stepped down 7 years ago and they could have had a judge for the next 30 or 40 years . So, it is kinda her fault the left didn't get a seat filled by Obama.
If Thomas was falling asleep during hearings and could not keep his head up and was fighting some type of illness every other month, I would write and beg him to step down , like the liberals did in 2014 and 2015 to RBG , so he could be replaced. If he dies, he will be replaced with a liberal ( super liberal) judge appointed by Biden harris just like RBG got replaced with Barret by Trump. But I tell you what I know the exploding heads would be audible across the USA, if Thomas retired and gave Trump a 4th SCOTUS pick.
You showed me civility before- and I wanted to make sure I showed that same level of civility to you. It is so far and few between that two people like us on different sides of the political spectrum, can actually have a debate without it turning into school yard brawl. Thank you for always engaging me in debate and making me have to truly defend my positions accurately, you help me be a better conversationalist. ;)
Oh please we can go round and round on the hypocrisy of all the democrats demanding a pick be seated and now saying no way you can't do that.
Meant to be ironic. The "claims" against President Trump come no where near the evidence provided by Biden & son. ;)
Show More Comments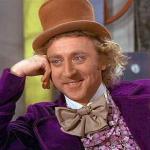 IMAGE DESCRIPTION:
FOUR YEARS OF A RACIST, MISOGYNOUS HATER; AND THE BEST THEY CAN OFFER IS A SENILE PEDOPHILE AND HIS GOOSESTEPPING PARTNER?
hotkeys: D = random, W = upvote, S = downvote, A = back