besides byleth but i can get behind him/her its basically just different corrin
Better Corrin, that is. Because unlike Corrin, people actually wanted Byleth
My most wanted character is dovahkiin
[deleted]
If Sans in, he will be so bad. everyone can just oneshot him cause he only has 1 hp
[deleted]
lol true, but when he attacks, it would drain their health.
I want him in but he is already a Costume
[deleted]
Well, i think thats not gonna happen, since he only can deal 1 damage, and everyone has thicc hp bar
Well he can only deal 1 damage, but all his attacks hit multiple times, it's just that each hit deals precisely 1 damage
[deleted]
Do you think if sans in smash, he would be the only one who can do that? Luigi can do it , Ness and lucas can do it, Everyone in smash can do it. And Every other character has higher hp bar, and does ultimate damage with they physic power, swords, and more. You cant compare any other legendary smash ultimate character to a skeleton with 1 hp.
steve is the 2nd best but no one can compete with banjo and kazooie
Banjo made me eat my knuckle
here who I main with DLC (You can disagree with my opinion)
1: Joker
2: Byleth, Terry
3: Hero, Steve
4: Sephiroth
5: Piranha Plant
6: Banjo Kazooie
Show More Comments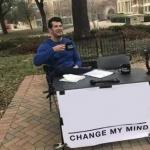 IMAGE DESCRIPTION:
Every Smash Bros. Ultimate DLC character is amazing
hotkeys: D = random, W = upvote, S = downvote, A = back