Whites Are Targets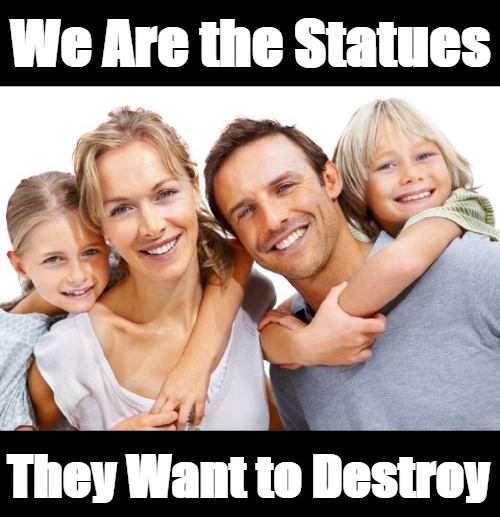 Meme #4 from Sterling Murphy with Evidence Violates Community Guidelines
Meme from Sterling Murphy at Evidence Violates Community Guidelines. Designed to wake Whites and inspire them to unite worldwide in love, vision, and commitment to each other's peace, safety, and prosperity as anti-Whites set their sights on them while the West burns.
[deleted]
You sound pretty racist there murph,
How so? Anti white rhetoric is prevalent. Anti white hate is on the rise with attacks happening routinely. Whites, like every other race, have the right to join together In groups for defense from attack verbal or physical.
Please feel free to share, post, etc. my memes and please give a nod to Evidence Violates Community Guidelines when you do. Cheers.
Made for Evidence Violates Community Guidelines which can be found on BitChute and Odysee.
Find more and do more about this through: https://thegreatorder.com/ . https://nowhiteguilt.org/ . https://redice.tv/
Black lives matter has stated it wants to destroy the nuclear family and traditional values. So regardless of what the naysayers here will say that picture is everything they hate
"We disrupt the Western-prescribed nuclear family structure requirement by supporting each other as extended families and "villages" that collectively care for one another, especially our children, to the degree that mothers, parents, and children are comfortable."-BLM

They are talking about disrupting a structure that doesn't offer sufficient support so they can restructure their communities to collectively offer better care for vulnerable women and children.

WHY DO YOU THINK EVERYTHING IS ABOUT YOU

Oh, because you're white? Of course, what was I thinking?..
How does that change what I said. The statement is an evisceration of males and a nod to communism. Primarily because the founders are lesbian trained Marxist who don't want or need men besides procreation. What about the Black melanoid superiority theories they propagate and or support. People like you always say oh it's not about you. Who is it about? It's about our society and we are members of that society then it is about everybody And you can't exclude white people as much S you would like to.
[deleted]
You sound exactly like Derek Vinyard, and any other klan member from the days gone by.
Ya and you sounds like every other liberal who promotes white guilt and hatred. Your racist label means nothing to me and the others who are waking up. The liberal Globalist attacks on white people trying to shame them for history when all other races have committed the same or worse is obviously concerted anti white racism. You don't achieve equality that way.
What Liberals promoting white guilt and hatred? Where are they?

I've only seen people discussing white privilege, the point of which is to combat racism when and where possible. So unless you think racism shouldn't be tackled, I'm not sure why you'd have a problem with that.
The nature of Critical race theory is about teaching white guilt. Why is no other race guilty? Who is educating black people on their american privelige over immigrants? I have no problem with equality but redirected racism won't get you there.
[deleted]
thats a myth no one want's to destroy you'r family.
Show More Comments
IMAGE DESCRIPTION:
We Are the Statues; They Want to Destroy
hotkeys: D = random, W = upvote, S = downvote, A = back