Competent leadership would've been nice, wouldn't it.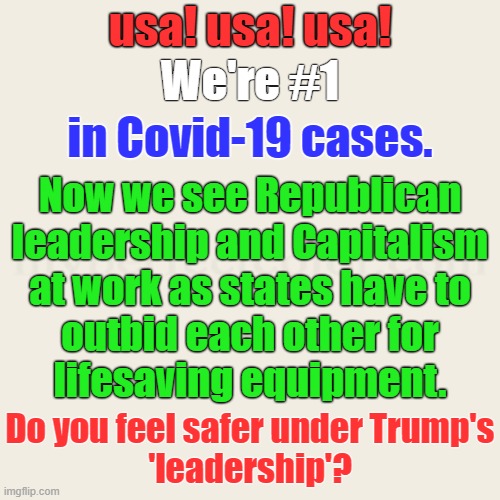 I know I don't. Can you spell 'incompetence'?
Where did I mention Socialism? I was talking about Republican Capitalism.
Which was moderated by laws passed in the 1930s by FDR and saved us
from GOP rapacity for 70 years. Until the GOP repealed those laws.
Bring those laws back, no problem with Capitalism.
But his laws did keep America's economy chugging along for 70 years after the GOP policy caused Great Depression, without another, didn't they.
Then the Republicans got the great idea to repeal Glass-Steagall and BOOM! The Great Recession.
I look at history. Tell us, when is the Republican Party's 'Trickle Down' theory gonna work for the American working man?
The rich and corporations have been given trillions to kick-start it.
But they keep on keeping it, and no detectable trickle yet.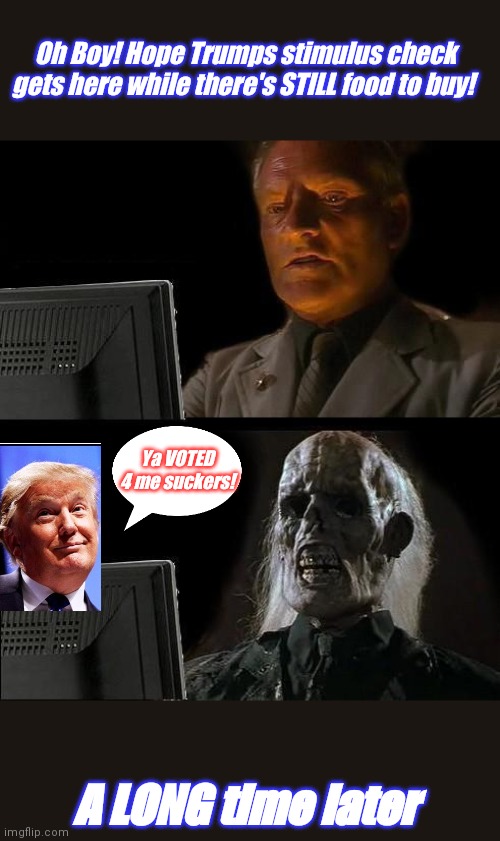 The New Deal saved our ass*s! As it was 3 million Americans still starved during the Depression; it would have been far worse had FDR not intervened. My family lost the bulk of our fortune,& to read in a classic book on banking that the Great Depression was deliberately initiated was a grotesque shock. Today the same process is being repeated by robbing Peter to pay Paul-a process Republicans are intimately familiar with.CV19 was a gift on a silver platter to the dictator who we always knew was itching to close borders. He will declare martial law as citizens begin to riot in desperation.Trump represents capitalism gone awry without any checks & balances. What you call "socialism" is the way healthy communities survive. The GOPs brand of rancid capitalism has doomed our nation.Trump SOLD our surplus medical supplies to China for $60 million,& now states are engaged in a pathetic bidding war in which Putin's pick penalizes Americans for how they voted! THAT'S not even legit capitalism-it's MURDER!
Yeah, because Coolidge and Hoover's policies worked so well.
What's it like, being a Trump RepublicRat. Get all goose-bumpy when your party passes another 'Take from the poor, give to the rich' tax plan?
Get a tingle when he purses his Edsel grille shaped lips and pretend he's talking directly to you?
Republican Coolidge's policies caused the '29 crash, and Republican Hoover's policies was like Trump's. IOW: 'Screw 'em'.
You say you aren't Republican. So what. You are defending the Republican Party, so when you talk like one, don't be surprised when you are called out.
There's no way you can say the GOP's policy had nothing to do with the Depression and Recession, nor can you say the Dems had nothing to do with recovery.
Troll on, sonny, troll on.
"... Hoover, who was a big government Leftist ..."?
Yeah, that makes sense. To a MAGAt.
So let's talk about 'gross incompetence'. Like your hero, cult leader Bubba Trump:
"Donald Trump isn't some pundit whose job is to tweet all day; he's the President of the United States, so he's definitely not doing his job when he's tweeting all day."
https://www.palmerreport.com/analysis/this-is-just-embarrassing-3/28495/
Your hero stole vital medical equipment shipments from states.
Your hero says that as far as he's concerned, the states are on their own.
Your hero takes no responsibility for ANYTHING.
And wants to inject disinfectants into Covid-19 victims.
It is Trump's and yours that "... aren't the words of a sober, rational human being."
Show More Comments
IMAGE DESCRIPTION:
usa! usa! usa! We're #1; in Covid-19 cases. Now we see Republican leadership and Capitalism at work as states have to outbid each other for lifesaving equipment. Do you feel safer under Trump's 'leadership'?
hotkeys: D = random, W = upvote, S = downvote, A = back