Anonymous is not against the imgflip rules. Some people just want to post memes without all the debate. Some people have to work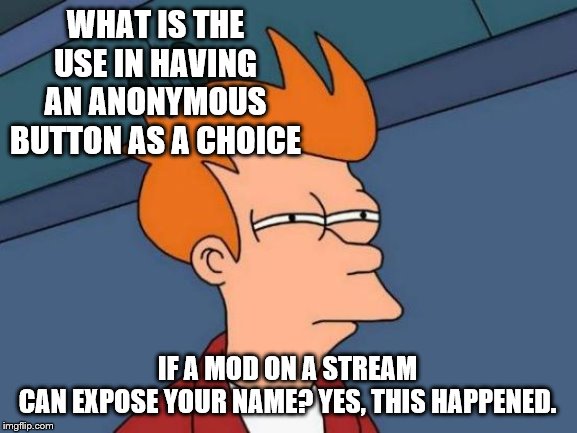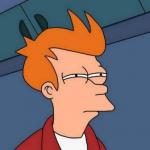 reply
This is indeed a setting that should not be modifiable by stream moderators or owners, because it has to do with privacy. We will make a change to fix it.

We do think it's reasonable for moderators to control whether users can post anonymously in their stream or not, but this can still be controlled without exposing which user attempted to post anonymously.
reply
Thank you. I agree they should be able to choose not to allow anonymous. Just that they shouldn't be allowed to modify it after it is already featured, which did occur.
reply
That stinks and really inappropriate of a MOD. I have no problem with anonymous memes in my stream and I respect the person's wishes to be anonymous although this whole site is anonymous so I wonder why the secrecy.
reply
I wouldn't say it is all about secrecy. I would say posting as anonymous allows ones memes to be scored more fairly than if posting under a known name that may be part of a clique. It allows the memer to avoid all the convo they might not have time for. It allows the memer to jump the fence on issues to be more creative on issues. For example, a female memer can feel more freely to post a meme from a man's perspective and vice versa. It also allows a memer to avoid being caught up in the drama that is so prevalent here. Some do not care to debate every meme they make. That is pretty much my take on posting as anonymous. And, as long as it is within rules, I don't see what the fuss is over anyone posting anonymous.
reply
All very good points that I never thought of before. I agree sometimes it's nice to be able to post without people knowing its Kate the Grate. (But I just use an alt account for that ;)
reply
Either way one chooses. An Alt account could be construed as secrecy as well. Anonymous works for me now. I don't really care about points. I just like to make memes. I enjoy your memes, Kate :)
reply
Your memes are great! I'm following you and upvoted a bunch of your memes. (Even though you don't care about points, I pass them out rarely to those whom I feel really deserve them)
reply
Thank you. I upvote a lot. If a meme makes me smile or laugh or think, it gets an upvote. Loved the one you posted in politics yesterday.
Show More Comments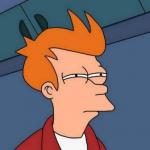 IMAGE DESCRIPTION:
WHAT IS THE USE IN HAVING AN ANONYMOUS BUTTON AS A CHOICE; IF A MOD ON A STREAM CAN EXPOSE YOUR NAME? YES, THIS HAPPENED.
hotkeys: D = random, W = upvote, S = downvote, A = back