Actually the surviving bacteria is now immune to Clorox and genetically different from the 99.9% of the germs destroyed by Chorox. This is forced evolution. You don't have to believe in it. The mutant germs won't care what you believe. They'll simply eat your face and not care about your religious beliefs.
The impact of long-term, wanton use of antibiotics has merely taught the germs how to survive.
Germs would win, have already won. There are some that kill all of us, but we can't kill all of them. So, big picture, germs.
[deleted]
You forgot to mention the billions of germs inside out body that help us digest food. Pretty sure it's bacteria, I don't know.
Because if we did not have those then we would die from world hunger.
You mean probiotics? A simple meme brings out all the wannabe biologists. LOL
WELP IN THAT CASE... GET THE NUKES!
Show More Comments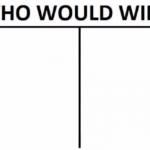 EXTRA IMAGES ADDED: 2
GUEST_30bd2121-e293-46bb-965c-6131c6873ea7.jfif
virus--artwork-513088279-5a4bb23f7d4be80036168bff.jpg
IMAGE DESCRIPTION:
CLOROX WIPES; THE 0.1% OF GERMS
hotkeys: D = random, W = upvote, S = downvote, A = back