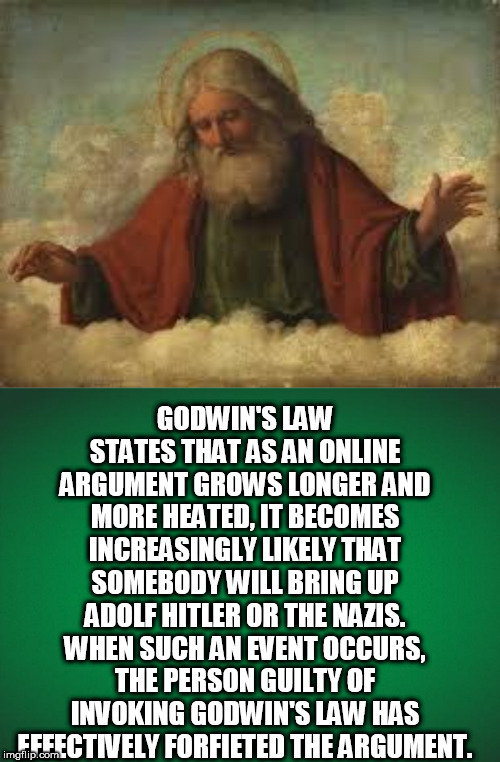 [deleted]
Of course, Mike Godwin has gone on record to make clear that the rule doesn't apply when you're actually talking about actual Nazis.
"I think global warming isn't real" "But it is" "I do not believe that" "You're a nazi"! .Been there done that .
It's what YOU do, you goof.
Look at yesterday's meme.
Drats, got me.

You are a clever one, aren't you?
No
&
No

Now go drop a name to impress how unread I am about whatever deservedly obscure dead Frenchie yet can shut your copypasting self up with stuff off the top of me noggin, typos n all...

That's the difference between you and me.
I'm an idiot, and I'm cool with that.
You have to borrow in order to pretend to prove you're not, but no matter what you quote, you are incapable of actually grasping it. It's just words to you, devoid of essence. Anyone throws you a curve? You can't process it. Meltdown city, like today, like now.
Gaagh, I said you're a hypocrite that projects, and you tell me I'm not an idiot after all. Sweet.
Sky blue, Timber? No? It's green with purple polka dots? k

Aren't you a little too old to take this thiois seriously?
No, because you're a moron suffering from a chronic case of arrested development.
Show More Comments
EXTRA IMAGES ADDED: 1
god
Green background
IMAGE DESCRIPTION:
GODWIN'S LAW STATES THAT AS AN ONLINE ARGUMENT GROWS LONGER AND MORE HEATED, IT BECOMES INCREASINGLY LIKELY THAT SOMEBODY WILL BRING UP ADOLF HITLER OR THE NAZIS. WHEN SUCH AN EVENT OCCURS, THE PERSON GUILTY OF INVOKING GODWIN'S LAW HAS EFFECTIVELY FORFIETED THE ARGUMENT.
hotkeys: D = random, W = upvote, S = downvote, A = back