Any other solution is unfair.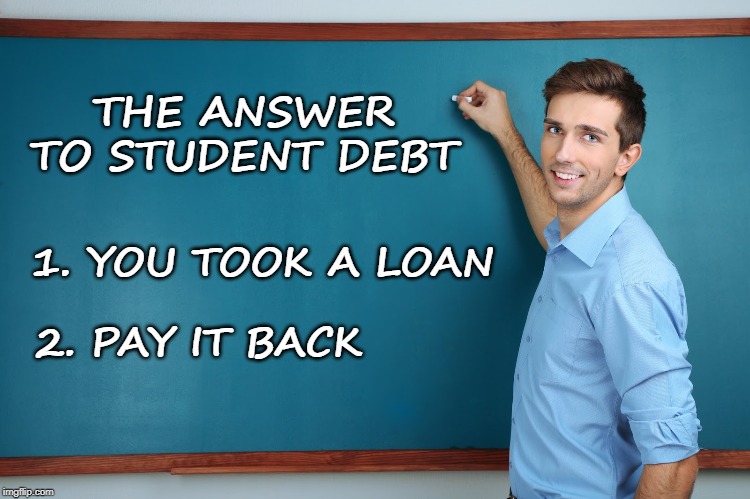 reply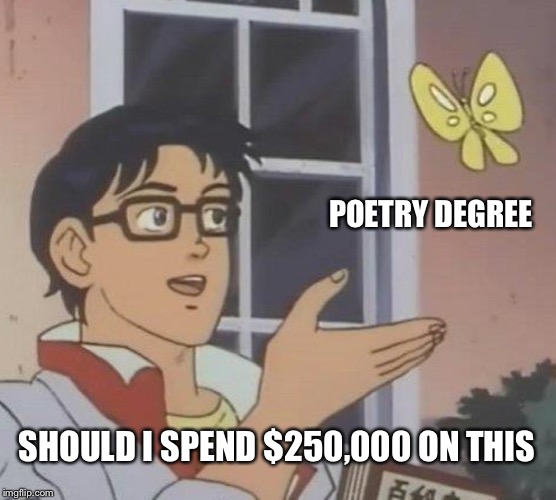 reply
i.imgflip.com/2hsnp9.jpg (click to show)
reply
[deleted]
Tell the next businessman who files for bankruptcy that he's doing it wrong.
reply
That is a good point.

However, business loans are given by private institutions that vet the borrower and determine the risk of default. They then decide to issue the loan or not. Since 2010, bankruptcy rates of businesses have steadily fallen to near all-time lows.

https://tradingeconomics.com/united-states/bankruptcies

Student loans are given by the government with no vetting and all loans are qualified. Families who would never have qualified before, are now given blank checks.

Prior to the government taking over all student loans, banks would vet the borrower and determine the risk. The default rate was much much smaller.

The result of the government taking over student loans with no vetting is that the default rate has grown astronomically.

The second consequence of this is that colleges have raised their rates since they now have a much larger supply of students. More students and less competition mean they can charge whatever they want. Law of supply and demand.

Another consequence is that some students, who should not be in college in the first place, now major in easier subjects that have little chance of providing meaningful employment upon graduation. Therefore it makes it harder for them to pay back their loan.
reply
[deleted]
So then let people file for bankruptcy on. the most hopeless of student loans. That will force student loan issuers to take on their share of responsibility of risk. Force them to consider the academic merit of the student before writing a cheque. Why is that unfair? You yourself blame their practices for all this. Who exactly are you trying to stick up for?
reply
The only issuer of Student loans is the Federal Government. Obama's Dept. of Education took the banks out of it because the banks would not lend to everyone.
reply
[deleted]
No, it gets contracted out to private companies. The federal government didn't handle my loan - Nelnet did. The federal government just connected me to them or something.
reply
From 1965 until 2010, the Federal Government guaranteed/subsidized student loans under the FFEL program. It was still the bank's money and Banks and other financial institutions would do the vetting, write the loan, and carry them on their books.

However, with the recession of 2008-2009, banks were becoming reluctant to write as many loans. So in 2010, Obama eliminated the FFEL program. He proposed that the Government would write all student loans directly. He also ordered the Fed to ease up on the requirements so more people could get a loan and attend college. Since then all student loans have been made directly by the Fed.

https://www.sfgate.com/business/networth/article/Feds-take-over-student-loan-program-from-banks-3193888.php
reply
I think Miki lost another debate
reply
The us govt issues the loan, they outsource the servicing
Show More Comments
IMAGE DESCRIPTION:
THE ANSWER TO STUDENT DEBT; 1. YOU TOOK A LOAN; 2. PAY IT BACK
hotkeys: D = random, W = upvote, S = downvote, A = back