'Who has Excedrin?"-Mueller was handed a political hot potato -(in more ways than one,w/Trump's buddy Vladimir in the picture!)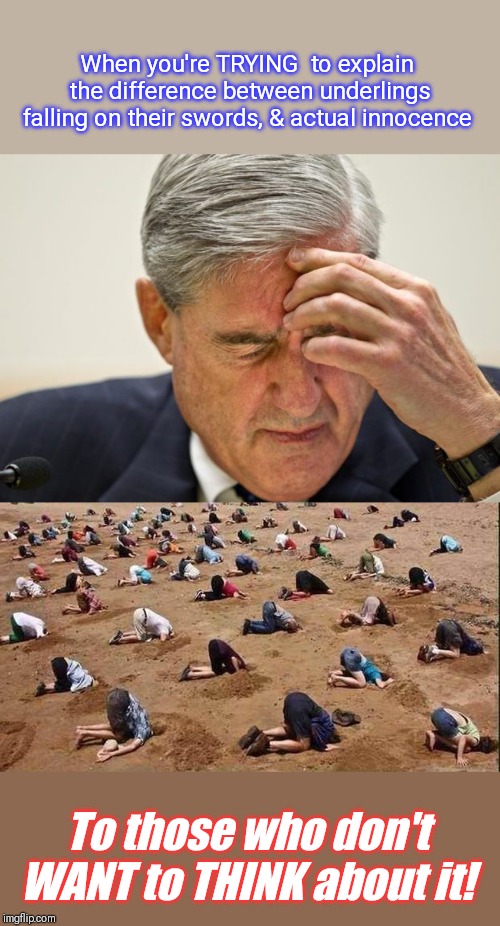 Why did you include a pic of cnn and maddow followers at the bottom?
[deleted]
Because she's a libtarded, hypocritical moron.
Oh,don't you recognize your fellow Trumplings? Those ARE MAGA heads-who should realize how closely their postures as they abase themselves before Trump resembles folks pointing their cabooses to the sky as they grovel towards Mecca. Still better to salute the rising sun than to assume the Trumpling position.
Calronmonflower-Took awhile to get back to imgflip-no, nary a Russian here-they're all in the WHITE HOUSE! The joke is that one cant hurl a stone w/out hitting one there.
[deleted]
LOL Russians in the White House? You're nuts, but I do see a lot of illegal invaders in the halls of state capitals like Looneyfornia.
Show More Comments
EXTRA IMAGES ADDED: 1
trump supporters
IMAGE DESCRIPTION:
When you're TRYING to explain the difference between underlings falling on their swords, & actual innocence; To those who don't WANT to THINK about it!
hotkeys: D = random, W = upvote, S = downvote, A = back