The First Amendment protects free speech from government interference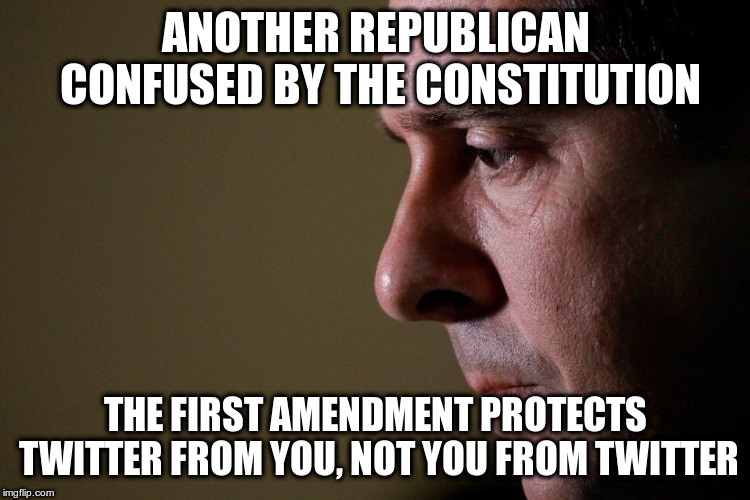 reply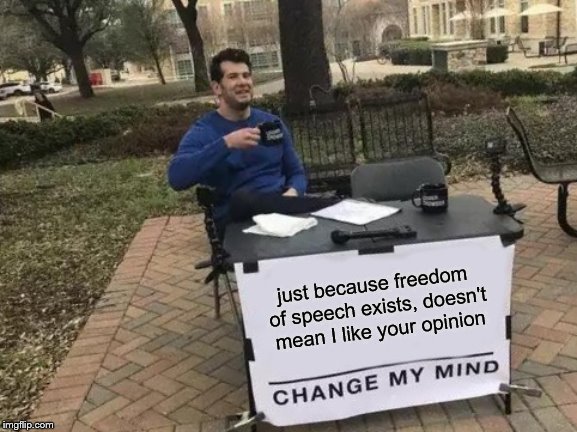 I do heavily value Freedom of Speech. But you're not protected from what people think of what you said. It just stops people and institutes of great power to censor
reply
[deleted]
Lol, you think Twitter isn't the government and a citizen running for a government position is.

You are funny.
reply
@Grind - if you are saying that Nunes is a private citizen in addition to being a representative of the government, then I could have some sympathy with that opinion. Saying that Twitter is the government is just crazy talk.
reply
[deleted]
I'm glad we can agree about Nunes.

Crazy talk? Oh really? Do you think Facebook is a private entity as well? I'm guessing you've been missing out on the DARPA LifeLog info that's finally gone semi-mainstream.

Turns out all of your favorite websites are CIA projects to monitor and control your thinking. Have fun looking that stuff up, or don't.

Oh, and imgflip is the CIA too. xD
reply
I have no doubt that intelligence agencies can and do make use of social media, but that's different than saying that they are one and the same.
reply
[deleted]
They are one in the same. Don't make assumptions. Do the research.

Start with DARPA LifeLog.
When did it end?
When did Facebook start?

Here's another big clue:
What is InQTel?
reply
sigh, throwing you an upvote for your persistence, but I don't buy into these conspiracy theories at all. Cheers!
reply
[deleted]
I appreciate the upvote. Godda knows I need them.

You should put in the 5 minutes of effort to answer those questions. It's not even conspiracy anymore. I think the Facebook thing has even been on TV? Maybe not, but it's becoming mainstream knowledge.

You're going to accept it within a year or two anyway. Might as well try to be ahead of the curve and learn it now. If you do I'll show you the imgflip to cia map :)
reply
Honestly Nunes is crazy. He is a republican in california. Doesn't he know they beat republicans. Just move away and allow them to succeed from the Union for all I care. Also I guess you support Twitter and every other organization in banning Conservative speech?
reply
[deleted]
I guess uninstalling the game won't do any good...
reply
It's already too late, they're on to me.
reply
The twitter lawsuit has nothing to do with 1st amendment. It has to do with control of information relative to public position and opinion, which IS what you dingbat liberals are accusing Trump of with the Russian collusion.

Furthermore, free speech does not protect from slander/libel, which IS prosecutable.

See what happens when you skip school to smoke in the restrooms?
reply
I swear if a liberal did this it would be restricting free speech.
It was literally a cow. Talk about triggered
reply
When you say "information", that sounds to me like speech.
When Nunes complains about "Shadow Banning", that amount to saying Twitter is suppressing his free speech rights.
Nunes complaints about Twitter allowing "offensive content" to remain accessible is his attempt to suppress the free speech rights of others.
Defamation may not be protected but the bar for what that constitutes is pretty high when it's against a public official, and furthermore is clearly hyperbole and satire.
Show More Comments
IMAGE DESCRIPTION:
ANOTHER REPUBLICAN CONFUSED BY THE CONSTITUTION; THE FIRST AMENDMENT PROTECTS TWITTER FROM YOU, NOT YOU FROM TWITTER
hotkeys: D = random, W = upvote, S = downvote, A = back