Refugees? Really?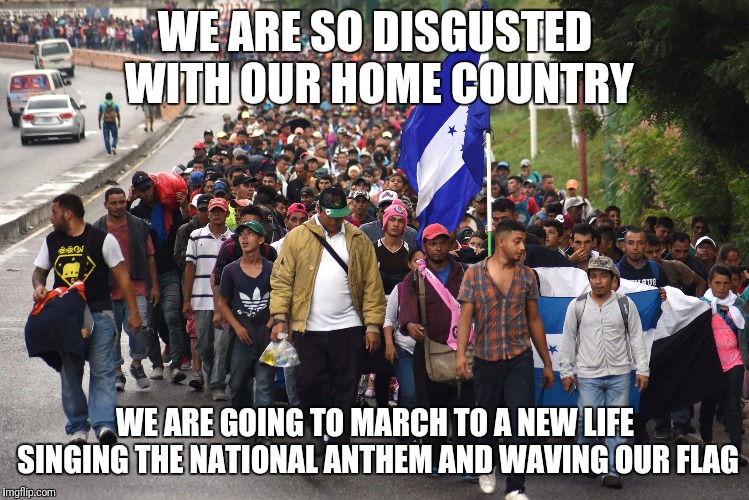 reply
[deleted]
https://m.youtube.com/watch?v=KspFTWt7SZ0

Nothing to see here.
reply
Any more info out there on that? Where is it coming from?
reply
[deleted]
That's all I got. I'm sure if you dig you'll find more.

That's all I needed to see. These people are paid invaders. No amnesty, no acceptance, no mercy.
reply
Even without the money I considered them invaders. If you're marching under your nation's flag singing patriotic songs while publicly announcing you will make it past any border security that might try to stop you.. you have all but declared war. They might not be carrying rifles, but their intent and total disregard for our sovereignty is pretty clear. I think the only silver lining is that this has got to be political kryptonite for the dems so close to the elections. I've got a couple friends that are pretty liberal and even they see the caravan as an invasion. Not particularly often we agree on anything regarding politics or foreign policy, but this is one.

In other news.. just read a headline since I replied to you.. guess someone just tried and failed to blow up George Soros, lol.
reply
[deleted]
Oh shit! That's gana make the deep state sweat. Now the people are becoming aware and bitter. Badass!
reply
btw have some upvotes, I always mean to give them out when people reply to my memes but tbh I forget most of the time
reply
[deleted]
Woo! I do the same thing sometimes.
reply
Thank you for your contributions to my Covington thread. I have upvoted all your memes and comments on them. Thanks again!
reply
Most immigrants love the US. Just saying. Dont know about these guys. We also shouldn't give refugee status to people not persecuted by their governments.
reply
My mother's an immigrant, I have no misconceptions that many love the US. However if you're claiming that you're fleeing your country because it's so horrible for you to live there, you should probably NOT be acting extremely nationalistic as you march to our borders to ask for asylum. It sends a mixed message, no?
reply
Yeah. These guys arent the best. I just see an attitude some times that immigrants are anti American.
reply
Some immigrants are anti-american, same as some are pro-america. Can't pretend there aren't those that cross the border then go to protests and burn our flags, because it does happen.
Show More Comments
IMAGE DESCRIPTION:
WE ARE SO DISGUSTED WITH OUR HOME COUNTRY; WE ARE GOING TO MARCH TO A NEW LIFE SINGING THE NATIONAL ANTHEM AND WAVING OUR FLAG
hotkeys: D = random, W = upvote, S = downvote, A = back