Hey look my meme has the most points....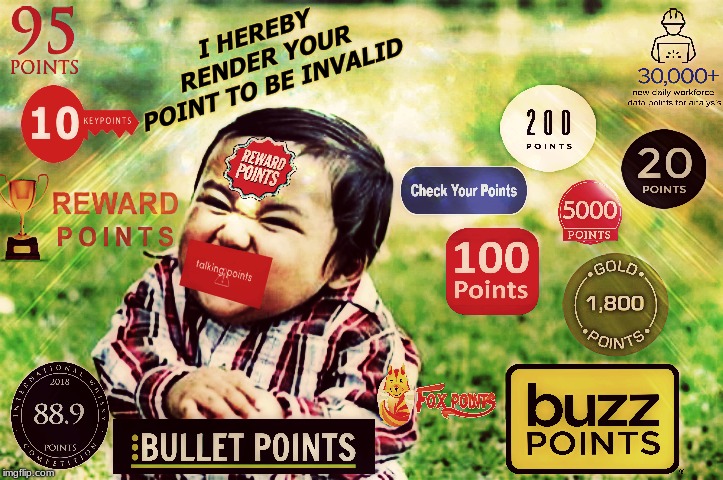 [deleted]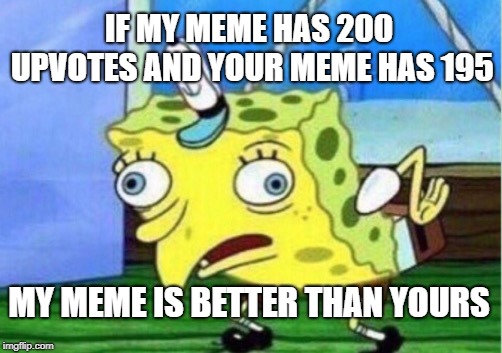 You should know this by now. C'mon, man! lol!
You try listening to your boss rant and rave about it while sitting right next to you lol. We've been up all night drinking redbull trying to finish a project. It drives him crazy that I mess around on meme sites when I'm stumped on something.

He's ranting about something while typing maniacly. He really has an issue with the memes on the front pages of imgflip lmao. I tend to care more about how well the crap I create for money does... ;)
[deleted]
If money were involved, I'd be more worried about that as well. I just do this site for shits and giggles and about 5% of my memes do well enough to satisfy my thirst. lol
I get my shits and giggles by counting downvotes on imgur lol. I spend so much time creating things I can't keep track of what does well wherever I posted it. I made this meme because I was playing around with exposures and testing how they can help blend layers together. I heard ranting about memes being made about points while trying to think of something I could use to add layers to a picture. I just start making one thing end up making a bunch of new ideas while I'm doing it.

Somehow I've learned to use having ADD to my advantage is what it really boils downs to lol.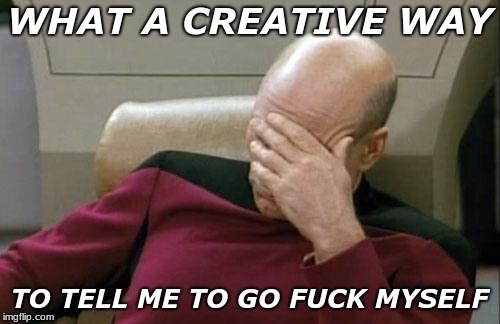 I don't know how you managed to finish that before the deadline! You realize you just made $3,000 in 24hrs right? F**king rain man meme maker!
[deleted]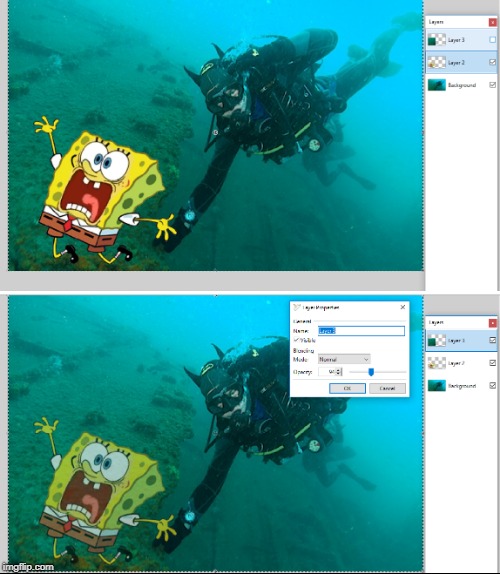 I don't normally worry about blending so much but i was really pleased with this one.

"Layer 3" is just a square copied from the main image ("background layer")

placed over the spongebob image (unfiltered in the top image)

and then "layer 3" opacity set to 94%
It depends on what I'm making it for. Photoshop contests aren't easy to win. I enjoy playing around with it. I get more pleasure making something than I get when something I make gets 100,000 views. I'm just wired that way, I throw stuff at different sites all the time then forget I even posted something.

My boss doesn't understand that people can enjoy doing something for more reasons than profit or recognition. He's one of the smaretest people I have ever met and we have written hundreds of stories together. The diffence between us is that I would keep doing it for free and he would never do it without getting paid. But we work well together despite that.

You did a good job on that pic, that had to feel good to accomplish :)
[deleted]
i'm pretty much the same, i do what i do for own satisfaction... just a hobbyist tho' but i do like when i get an idea for an editing challenge and it works!
That's all that matters man. My boss is always spouting off about how he wishes he could think the way I do. It's not exactly a picnic. My mind never stops racing, ever. I am not capable of sitting still in a state of relaxation, at least not sober anyways lol.

Sure I have a lot of ideas only they come in no order whatsoever surrounded by other ideas I have to try and sift through. I take meds so strong that my boss took one and turned into frappin' scarface of the meme world all of a sudden. They don't do that to me unless I skip a few days and take a large dose. Even then I still appear outwardly calmer than I do sober, more able to direct the flow of chaos inside my head. Guess that's why if people who don't need it take it they get fixated on things. I love creating things but I swear I am so sick of that word right now! My boss was chanting it like a mantra.. creating creative creations creatively creates creativity aaaahhhhhhh!!!!!!!

He's really not a bad guy. He sure had an issue with somebodies reveal meme though. I wish you could have seen his face when I told him I made one back in the day lmao!! You just have to take him with a grain of salt is all. This is a guy who trolls people online using the excuse that he is searching for good insult material. Even if I have to admit I have seen him make a profit off of somebody who let their jimmies get rustled and invented new ways to call him an asshole.

If people here rarely replied like they do on reddit he would never log on. He can't make money off of memes. Once it's posted online it's not worth the effort to try and get the rights to it so you can sell it. Frustrates the hell out of him lol.

Anyway I'm rambling, just don't want you to think that because my boss and I have a lot in common that I agree with the chaotic montage he vomited at you. We may finish each others sentences, literally, I make the rough draft and he smooths it out. It ends there though, I'm an introvert lost in my own head and he's an extravert who loses his mind trying to be a headhunter.

We each have our issues both good and bad. I however do not have an issue with you. Jesus I can't stop the damn word play! I'm never excepting a contract that close to it's deadline again! It paid double because the group that had it first couldn't accomplish in a week what we did in one night. It's just going to take a week to recover from it.
[deleted]
same man, i have no problem with you at all but your boss is kinda mentioning that he knows someone from imgflip (not by name) and people are asking who it is. just be careful you don't get covered with the same shit when people start taking aim at your boss

and if he's looking for insults...he picked the right guy in me :p if he wants some new insults, tell him to google "tokinjester343" and "ree_g_ama" i got a few good ones off there. unfortunately, ree_g_ama deleted his previous account "kain_s_bishop" where i did some of my finest work...burned the guy so bad he deleted his account after only 3 hours of trying to troll me. my quickest kill yet LOL

anyhoos, take care man and keep up the good work!
Yeah... I asked him not to put my name in the middle of his tirades,,,, he thinks my stuff on here should get more attention. Regardless of the fact that I don't give a shit lol. He does have a point about the fact that if you want to be noticed on this site, you have to be on here talking to people that are on the site at the same time. He doesn't realize that it's the delayed release times, that make you need to have a few friends around to help bump your meme up, to a place the casual meme observer might see it.

I got most of my points on here after my neck surgery when I was laid up with nothing else to do. It does take time and effort to make the front page here. Only it's time working on your social skills not your meme skills that pays off.

You post something and then have no idea when it might get it's 15 minutes on the latest pages. Or whether or not they will hold it so long it features too far back to even get that. It's a roll of the dice that anybody who likes what you make will be looking at the latest pages during the short time memes get before being buried completely. If you don't have enough friends to bump your meme up to the top 10 pages of the hot list the odds are completely stacked against you. Even if you have friends here they have to be online while you are whenever it is that meme features. If you're like me and don't want to just straight out ask people to upvote your stuff. You just comment a bunch and try to get noticed hoping people might take the time to see what new stuff you posted.

Basically the site is set up to give the advantage to groups of friends. All you need is around 10 people who all agree to upvote each other and everything you make will hit the top 10 pages where your odds go from slim to almost certain of anything doing good no matter what it is.

Once I figured that out, it stopped mattering to me how well my stuff did here. It's like finding a code to beat a video game and then trying to play it over and over again. I'd rather lose constantly doing something new than win doing the same thing over and over.

There are good people here and it's worth coming here to check up on things to me. I just can't make myself care about things like points and such. I've had stuff blow up and get hundreds of thousands of views with thousands of upvotes. Nobody gives a shit, and I'm already in the middle of my next creation.
[deleted]
yeah i'd said to him before, a lot of people use this site for socialising...like FB with memes. I've been on and off for two years now and don't really know that many people here...i think the number of people I've had private conversations with could be counted on the fingers of one hand, the number of people I've pissed off however, well that's a whole different matter :p

Being in the UK i remember from last time round (once people were used to my stuff) there was a sweet spot, time-wise, where i could post a meme and almost guarantee front page but like yourself, it's not about points for me, it's about doing something creative with an image and maybe learning something new into the bargain, and once it's done, i just post it. i could wait for 3 or 4 hours to get that sweet spot but for me i just need to post it and move on. yeah it's nice when people see your stuff, nice when they appreciate it but i think the main satisfaction comes from yourself, especially when there's some image editing involved

this time round i can barely get my memes to Latest never mind top of the front page, but i'll keep making them anyway!

cheers man, take care
Show More Comments
IMAGE DESCRIPTION:
I HEREBY RENDER YOUR POINT TO BE INVALID
hotkeys: D = random, W = upvote, S = downvote, A = back