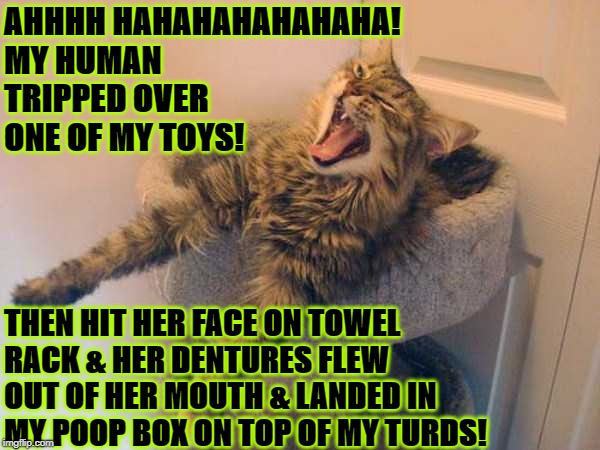 reply
We ARE amusing little slaves,aren't we? The reason some people are unnerved by cats is that they take themselves entirely too seriously. They know cats are indeed laughing at us,(who wouldn't-i laugh at myself every day!)-but to those who equate laughter with unbearable & unfortunate loss of dignity, even a cats quiet observation & restrained amusement at the clumsiness of the tailless but endearing human slaves is just too much for the humorless to bear! On the other hand,Mark Twain, our beloved humorist, loved cats dearly,once renting one while on vacation. He had great esteem for cats!
So do most of us with decent senses of humor.????????????????
reply
Yeah! If you search the web there are actually pseudo-scientists out there advocating for killing off cats that are strays and requiring people who have cats to keep them inside because they're killing off all the birds. I don't know your views on this but freaking chemtrails are killing off birds. Stupid governbots read what these fake scientists say and believe it and spread crap about cats. Hitler hated cats. Narcissistic people hate cats. Even stores have 3 times the amount of stuff for dogs than they do cats. If people prefer dogs that's fine but if it's because dogs view them as God then they don't care for dogs either. Narcissists! People won't adopt black cars because of superstitions from hundreds of years ago which means most get put to sleep. I have a Bombay, a lunatic Turkish Angora and a giant snowshoe. Grumpy cat is a snowshoe but she's a dwarf but mine is a giant. Not fat or husky either. He appears to have gotten taller and most of his 20 plus lbs is his massive skeleton. GORGEOUS cat and all were accidental finds. Turkish angoras are the epitome of insanity and intelligent tyrants. Biggest brats of all cats and yet you want to encourage their tyranny. They never forget something you do they like and they become tyrants about it. Mine gets what I call spa treatments. He wants sink drinks and brushing all at once and he does all kinds of bad stuff until you give in. Typical of the breed.
Show More Comments
IMAGE DESCRIPTION:
AHHHH HAHAHAHAHAHAHA! MY HUMAN TRIPPED OVER ONE OF MY TOYS! THEN HIT HER FACE ON TOWEL RACK & HER DENTURES FLEW OUT OF HER MOUTH & LANDED IN MY POOP BOX ON TOP OF MY TURDS!
hotkeys: D = random, W = upvote, S = downvote, A = back