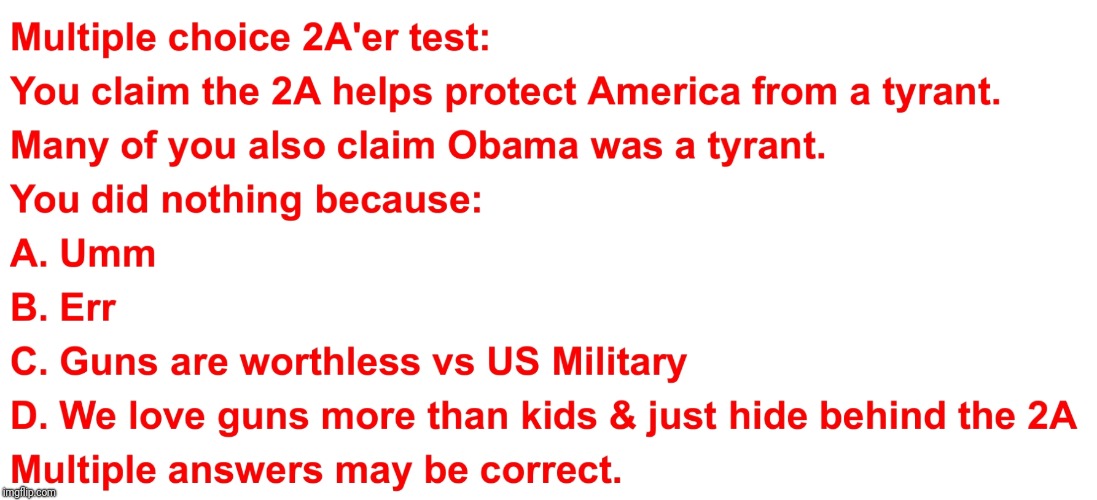 | | |
| --- | --- |
| 199 views, 3 upvotes, Made by Obama44thebest 1 year ago | but 'da 2nd amendment |
reply
We were going to overthrow the government, then we realized it would be our job to protect people like you if we did and changed our minds.

Love guns more than kids huh? You're gonna have to come up with something better than that. I'm pro choice and reading that made me cringe just thinking about responses like, at least kids shot at school got to be born and live a while first.

I like the second amendment because I would rather be shot than stabbed to death like the over 34,000 people who were killed by knives in England last year.

Our school systems are horrendous and kids get treated like garbage by other kids all the time. Then those kids go home and their parents don't parent. They are not a safe environment guns or not, the only reason those kids use guns is because they have already had their asses kicked and know they can't win that way.

I love my kids so much more than anything else I homeschool them. Well my 17 yr old is in college already but the 6 yr old won't be for a while yet.

Maybe it's time people started raising their children again. I know that would be a lot more work than blaming guns when the shit hits the fan. But it's the only way the real issue is ever going to be solved...
reply
Hard time deciding if "2A no longer applies to fighting tyrants because we'd have to protect non-2A losers" is A or B. Please be honest: your answers are for research purposes on fighting tyranny only and will be kept strictly confidential.
reply
Honestly... I don't have the slightest idea who you are talking about lol. Who is supposed to be a tyrant now? It's hard to keep up on what you guys are bickering about this week. There are very few issues I care about and guns are one of them. I feed my family with my guns, we are completely self sufficient. I use my crossbow for sport but it doesn't have the longest range in the world. Trust me the weapon you need to be the most afraid of are these new crossbows woooohweeeeee nelly! Seriously though I put an arrow through a car door. Plenty of guns can't do that, pretty damn easy to get a crossbow too. They aren't on the news so all the sheep don't know they even exist baaahhh.
reply
If it makes you happy who I am to deny you a liberal dose of pleasure... see what I did there?

Just out of curiosity I was wondering why you chose another person name as your username. To like anybody so much that you put them before your own identity confounds me. When you meet people for the first time, you believe that it's important the first thing they all know is that you think Obama it the best? Nothing about yourself, your family, a damn pet, anything from your entire life, people you actually know even.

None of that came to mind? The site asked you for a username and the first thing you thought was, my love for Obama is the one thing everybody that talks to me reads and identifies me with.

I hope it was the first thing you thought of at least, I'd hate to think you thought about your family first and were like, nope, gotta be bama instead.

So yeah there's that whole deal, just trying to wrap my head around that thought process ya know.
reply
I would never call you that...
reply
Barack Obama didn't start a war against his own people. He didn't have the military go door to door arresting people because of what they said online or in public.

You know nothing about the 2nd amendment.
reply
No they are not. Which proves you know nothing about the guns and the 2nd amendment.
reply
[deleted]
D. We love alcohol more than kids but we don't have a problem with a gazzilion alcohol related deaths and family's destroyed. We need more beer commercials showing how much fun and popular it is to be young and drunk.

Guns are a drop in the bucket. Take away all the guns tomorrow and guess what? Come September you'll have your first school bombing by a 17 year old.
reply
And another ripped off meme by a brainless chump bites it.
reply
As of 3PM EST 6/9 results are as follows:
B: 1 Vote
C: 2 Votes
D: 1 Vote
Thank you all for your replies so far!
Show More Comments
hotkeys: D = random, W = upvote, S = downvote, A = back