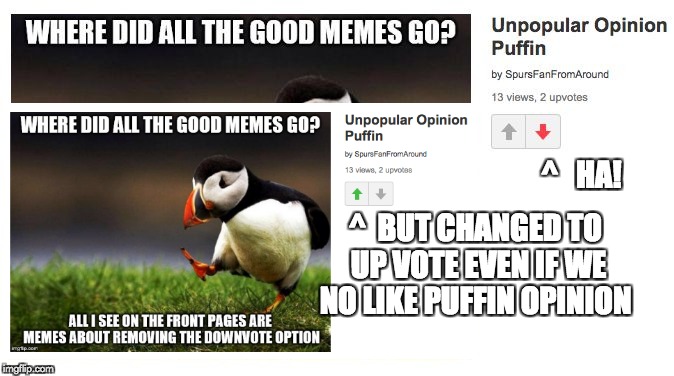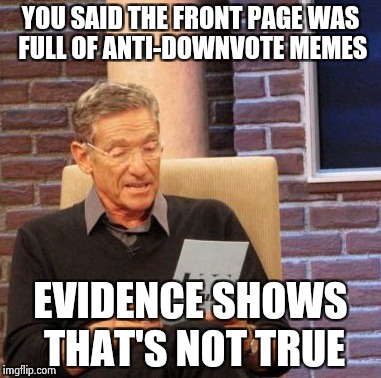 Whoever smelled it dealt it
[deleted]
[deleted]
Down with downvotes, up with....
[deleted]
Exactly what I was thinking!While I appreciate the anti-troll movement,I still think that the best way to oppose the trolls is making funny memes,so there is less place of the religious/political zealot ones!
[deleted]
I make political memes from time to time and some religious ones even more rarely, but the way I see it if you're offended by them, it isn't me who should quit making them, it's you who should just suck it up and move on. I'm not saying you as in you, but for anyone who gets offended.

I agree with trying to eliminate the trolls, but I feel like it'll never happen. They got rid of the downvote bar to do just that, but it didn't work and made the trolls come out even more so.

I think since they added the ad revenue on here this site went mainstream and so did the trolls. I was here before most didn't even know what Imgflip was, but now you look up memes on Google and one of the options is Imgflip.
[deleted]
I have no problems with political/religious memes as themselves.But at least put some effort into it!I just can't help myself but to cringe when I see "One does not simply think religion is smart" or "I'm not saying all religions have violence in their history,but all religions have violence in their history" or "theists,y u no stop dissing atheists" etc etc etc

A wise man once said:"Don't you know?Evil never dies"

If only I was here earlier....From what I hear,seemed like a much better place than it is now,apart from the time of 2016 elections,when the site was flooded with political zealots
[deleted]
My favorite time on here was in 2015. Late 2015 was good up until they did away with the upvote/downvote bar. It's still the best meme site out there in my opinion, but it definitely has gone down hill.
[deleted]
Well if that's the case,then I will make sure it goes in the right direction!I've said this many times,and I will say it again:I will make funny memes,and I will inspire other memers to make funny memes as well!We will make IMGFlip even better than it is now!
I believe you mean Make IMGFlip Great again!
It'll only get worse w/o the downvote button.
[deleted]
I'm not calling you out. Luv U
[deleted]
But it'll be rejoicing and love memes!
I don't really give a crap, uh, no, that's not it. I mean have a strong opinion or a dog in the fight either way, but I couldn't help but notice that the people complaining the loudest are ALREADY top users. The downvotes couldn't have been hurting them that badly.
[deleted]
I'm a strong advocate for the downvote button and I wish the like/dislike bar would come back.
So...popular = good? Or, "Correct"?

Galileo and Copernicus would suggest otherwise.
Where have all the good memes gone?...lol That's kind of the whole point of Down With Downvotes... It's impossible to get good memes to the front pages once you get on the bad list of the downvote trolls using their numerous alt accounts to downvote you into oblivion. If the downvoting is ended, then all memes will have an equal shot at rising, and the good ones will rise to the top. That's not the case now.
[deleted]
I've had a few front pagers in a previous life, but I'm so over worrying about the points and what that brings, that's why I quit. Thankfully what I'm seeing more of now is top 10 'ers tagging newer users and even linking to their memes (isayisay, I think it was and raydog too), you can tell this means a lot to people when they even post a meme about it! If I see a genuinely funny meme and it's obviously from a newer/younger memer, I'll comment on it, that's what will get more original funny stuff circulating. no person (or small group) has a monopoly on funny ideas!
Well said.

Oh 36 seconds. I Talk Too much to make anything funny or original I suppose.
I have a fridge meme coming :)
Translation: True, so true. So much potential in memers, but they use memes for removing downvotes or political views. I mean for gods sake this place is supposed to be fun, but no. It's just insane.
Show More Comments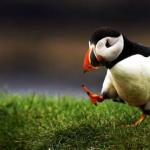 IMAGE DESCRIPTION:
WHERE DID ALL THE GOOD MEMES GO? ALL I SEE ON THE FRONT PAGES ARE MEMES ABOUT REMOVING THE DOWNVOTE OPTION
hotkeys: D = random, W = upvote, S = downvote, A = back