Genesis 3:1Now the serpent was more crafty than any beast of the field which YAHUAH had made.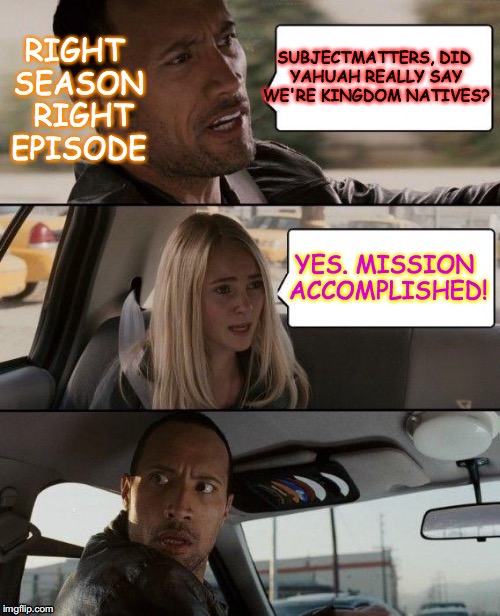 [deleted]
So, are you still joking, or are you asking a serious question and wanting to be taken seriously and responded with RESPECT?
the question itself was a joke, and not ment to offend people or anything, but i am a very curious person who would love to know more, and would definitly prefer to be talked to with respect (does that awnser your question?)
[deleted]
When you decide to ask a question without hiding behind it "being" a joke, you will get an answer to the question you will have decided to ask with innocent curiosity.
it wasn't even a jap at actual royalty, it was supposed to refer to people who call themselves "the king of memes" or "king of videogames" or something like that, but if i get a chance to learn something new, the i guess everything is innocent curiosity, i guess
[deleted]
I was responding to becoming a King in the KINGDOM of HEAVEN. If you are interested in learning about that, let me know.
is that a religious thing? that explains alot... maybe someday :)
[deleted]
No, it is NOT a religious thing. It seems that you are NOT very BRIGHT. I wish you well.
kingdom of HEAVEN. eihter you were refferencing a piece of art i didn't know about, or something religious i haven't heard of. what else was i supposed to think?
[deleted]
You weren't suposed to think. You were supposed to ASK QUESTIONS to understand. What you cal thinking is making up theories based on your own assumptions and "believing that they are correct" and making comments based on your FALSEHOOD. That's not thinking. You must STOP that kind of "thinking" immediately, and come to my hospital for further evaluations and HEALINGS.
[deleted]
https://imgflip.com/i/1vc4m1
[deleted]
https://i.imgflip.com/1vc4m1.jpg
[deleted]
https://imgflip.com/i/1vc6co
Show More Comments
IMAGE DESCRIPTION:
RIGHT SEASON RIGHT EPISODE; SUBJECTMATTERS, DID YAHUAH REALLY SAY WE'RE KINGDOM NATIVES? YES. MISSION ACCOMPLISHED!
hotkeys: D = random, W = upvote, S = downvote, A = back