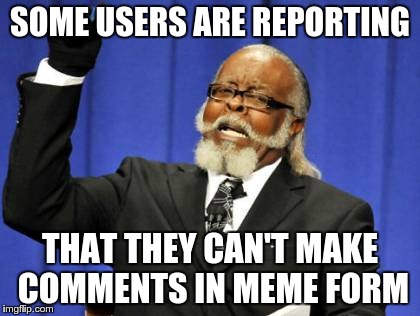 Until they "improve their 'comment reputation.'"
In that case the user has either posted a nekkid picture that got flagged, or they been downvote swarmed by trolls.
Absolutely correct. I am one of those badies. But I don't give a f**k.
[deleted]
Yes, your meme will go back to 'submitted' status
Really? Didn't know that was possible... What about on stuff like YouTube?
I made a meme recently that - without naming the culprit - made fun of a troll for making a BS claim on a meme of mine. It got featured quicker than any meme I've ever made, which surprised me to no end. The next morning when I logged in to imgflip it was back to 'submitted' despite many upvotes and comments on it. Someone discovered it and thus: troll swarm.
We don't see the downvotes.
I suspect that moving up the hot list is based on an algorithm. The number of downvotes may affect that. I have no proof of this though. SirMemeAlot is right that memes can get downvoted out of submission. Downvotes on a comment can move it to the "low rated" status where you have to click to show.
It's happened to me several times recently when I chose to disagree with a couple notorious users. I had to beg for upvotes from friends, flag threatening evidence, and e-mail admins with copied evidence in order to get out of probation hell. Right now I and a couple others are trying to get downvotes on a timer so that trolls can't abuse it to wreak vengeance just because you don't think like them.
Downvotes have many cumulative and punitive effects on your memes, your comments, and your account.

Upvotes on the other hand, are pretty much meaningless after the first 1000.
It can get downvoted back to submission
The down votes doesn't show up on your total votes counter but they do have a detrimental effect on your meme, comments and account. Pretty much what all the others said.
Show More Comments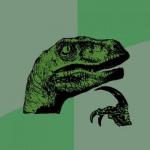 IMAGE DESCRIPTION:
DOES DOWNVOTING; ACTUALLY DO ANYTHING ON IMGFLIP?
hotkeys: D = random, W = upvote, S = downvote, A = back