Flow~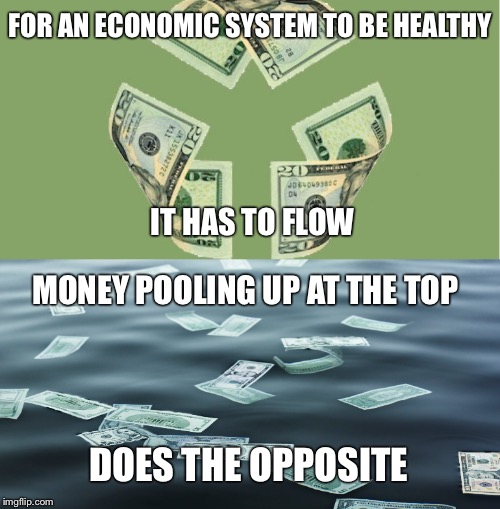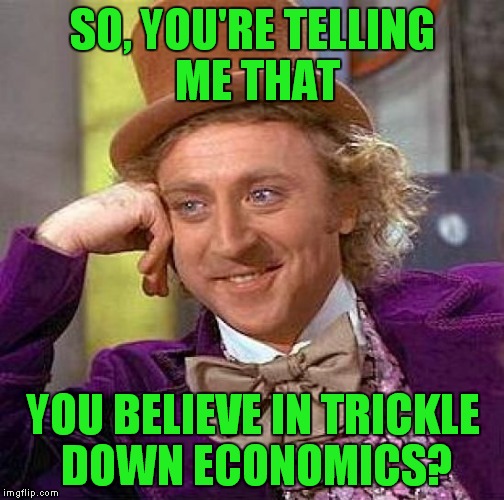 No, I believe in flow economics the opposite of trickle down economics that obviously doesn't work.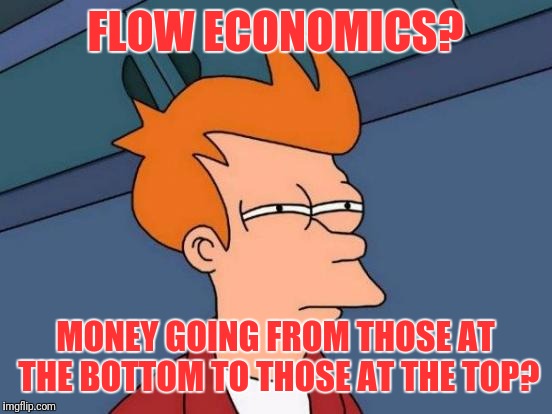 Cool! So, we can rob from the poor and give to the rich?

Where are the poor supposed to get their money from?

Once the poor have money won't they a) be considered rich and b) not want to give up their money?

Take it from someone who has a degree in and works in Technical Communication...your graphics combined with the description of money pooling at the top made it appear that you were describing trickle down economics.

Good talk...peace out!
Don't put words in my mouth. That is not conversation at all but about dominance. I did not once say flow economics is about poor people giving to the rich. That's trickle down economics. Flow economics is about not letting the money pool up at the top, ie the rich, but instead people will cease to be so poor because of system changes that they'll have more to spend, hence spend it, hence flow economics.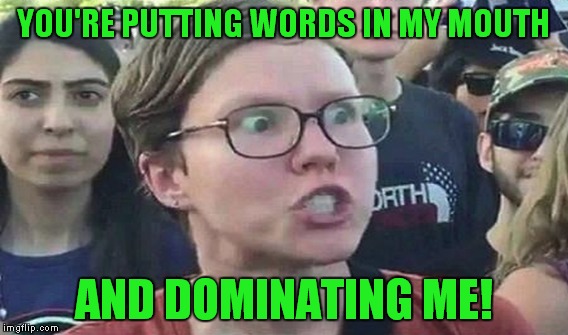 Well, there is this thing called P U N C U A T I O N (I wrote it slowly for you to make it easier for you to read, just in case you're not too swift)...notice that my first three sentences all ended with question marks. Therefore, I was honestly asking questions and I don't see how that can be putting words in your mouth or dominating you. Sorry if you've been triggered.

Seriously, I had never heard of Flow Economics, so a few more questions.

How do we ensure that the money doesn't pool at the top?

What do we do with the money after we've confiscated it from the rich?

If we're redistributing it, how do we determine who gets it?
Now you're projecting me negatively in meme form. Sorry not into senseless arguments. I prefer respectful conversation. This will be my last comment. Good night.
Okay, 3 more questions asked and zero answers given.

You DO NOT prefer respectful conversation because you would have answered the questions instead of getting your panties in a bunch.

Let's see how good you are at keeping your word - I'll ask questions and we'll see if you reply.

"Now your protecting..."...wtf does that even mean, honestly? Is it supposed to be "you're" instead of "your"? Is it supposed to be "projecting" instead of "protecting"?

Glad you're not replying anymore. Go seek some remedial English classes and economics 101. Maybe then you'll have solid answers to the legitimate questions that I posed. Talk to you soon!
Show More Comments
EXTRA IMAGES ADDED: 1
IMAGE DESCRIPTION:
FOR AN ECONOMIC SYSTEM TO BE HEALTHY; IT HAS TO FLOW; MONEY POOLING UP AT THE TOP; DOES THE OPPOSITE
hotkeys: D = random, W = upvote, S = downvote, A = back