College Liberal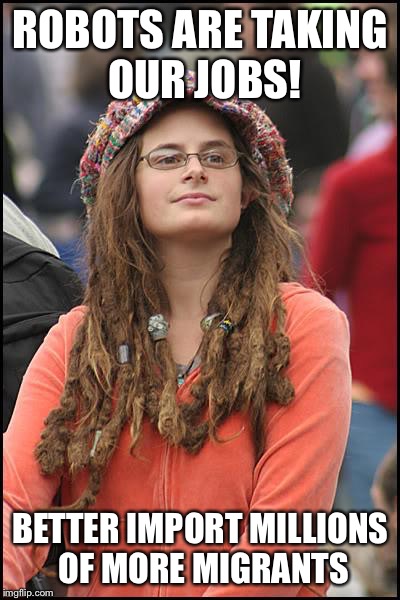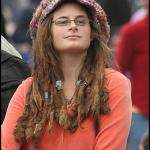 reply
Yep, typical liberal anti-logic. Well done.
reply
[deleted]
Funny, it's not the liberals that import them: it's the businesses that lure them here. Illegal immigration has been dropping over the last decade, since the financial meltdown of 2008. Now we have manufacturing jobs out the whazoo here in Indiana but not enough employees to fill the jobs. American workers aren't moving to where the jobs are, even when there are few jobs where they live because they've been burned so many times over the last half century. Examples I know personally: families move from parts of Kentucky to my area. Very common in the 50s and 60s. They left a lot of family back home. When the recessions of the 70's hit, they moved back to Kentucky or other places where the work was. this kept occurring, damaging the extended family support systems of generations. Now that things have picked up, the work force that was here is gone. Most illegals went back to Mexico and haven't returned because NAFTA saw to it that the jobs moved there, so they wouldn't have to come back. The American migrants? they left because they had nothing to tie them to this area. You know any out of work welders or CNC operators looking for work? Send them to Indiana.
reply
Liberals "import" them in the sense that they advocate for unregulated immigration. The point of the meme is that on one hand, liberals are panicked about AI and automation taking jobs, while at the same time supporting unlimited numbers of mainly low-skill workers migrating into the country. It could also be interpreted as Muslims in Europe, as Natalie_vance has said.
reply
[deleted]
Liberals will push to allow refugees entrance into the US. In the case of the Muslim immigrants you are concerned about there are two vetting processes. The first, for the rank and file, takes 2-3 years before they can enter the country. For the most part, it's families coming. The second method is the old favorite: Do you have enough money. Those are the ones that you have to be careful about. Come to this country with a stash of cash to show that you succeeded in your home country and will do so here. Worried about terrorists? When a simple Muslim comes here but has a bank account of a quarter of a million to transfer with him, ICE goes ape over letting them in. No questions about how they could have accumulated that much money in a developing nation unless their family was already well to do. You can guess where that money is coming from, and what it will be used for. Sleeper cells. Move here. Take over operations of convenience stores around the country to hide their activities. "Solid citizens". Right.
reply
Liberals are allying with Islam to create evil.
Tru story.
Show More Comments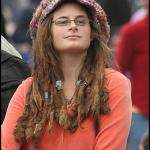 IMAGE DESCRIPTION:
ROBOTS ARE TAKING OUR JOBS! BETTER IMPORT MILLIONS OF MORE MIGRANTS
hotkeys: D = random, W = upvote, S = downvote, A = back