I have never seen a single news article of any Christian murdering anyone and claiming it was for Jesus. Even if one exists the number when compared to Muslims claiming violence in the name of Allah outnumbers them million times over. But hold on to your dream that comparing apples to oranges explains 1400 years of terrorism.
Did Christians have a violent history, yes. So what? So did all cultures, races and religions. The hard truth is Islam has not changed, not joined the modern world and remains a global threat to humanity. Do you deny that Mohammed called for his followers to use violence? Do you deny Mohammed married a child? Do you deny Mohammed owned slaves? Be real careful with your apple vs oranges arguments. When I see a global network of Christians screaming for blood, I will be more than happy to call them out on it.
I have to give the modern Christians credit for overcoming their past and keeping a much closer watch on their modern members, goals and agendas. Islam has to change to be accepted and my hope is the few standing up to the more violent zealots will see millions more screaming "not in our name." Change is possible, it is also necessary. The hard part for many will be looking forward and not backward. That applies to everyone, every religion and all races. We are all here together, we can hate, destroy or build and grow.
Show More Comments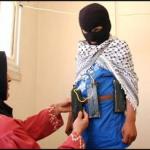 IMAGE DESCRIPTION:
ISLAMIC TERRORISM MEDIA TALKING POINTS; THIS HAS NOTHING TO DO WITH ISLAM HE WAS NOT A REAL MUSLIM MOST VICTIMS OF TERROR ARE MUSLIMS (NOT TRUE) HE WAS A LONE WOLF (ALSO RARELY TRUE) MUSLIMS FEAR A BACKLASH DON'T JUDGE ALL MUSLIMS ON A SINGLE EVENT (OR ALL OF THEM)
hotkeys: D = random, W = upvote, S = downvote, A = back