I know it's sorta "wot" (wall of text), but I wanted the message to get out.
See I used to be a conspiracy freak, but then I was sort of cured by time,
and ended up meeting another conspiracy freak. Turns out that during the time that went by since I was a freak, several thousands of logos on the internet have been connected to the illuminati, so with my newgained logic and knowledge of how people invent stories and how they are distorted by evolution, there was only one logical explanation left.

illuminati is a brand, and everyone who realises this can brand themselves as illuminaty simply by making their logo "illuminatian"
Show More Comments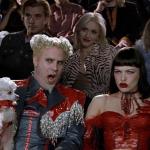 IMAGE DESCRIPTION:
ON THE SERENGETTI PLAINS THE ANTILOPES PRANCE A LOT WHENEVER THEY SEE A LION. LOGICALLY IT SHOULD PAY OF TO CONSERVE ENERGY FOR WHEN THE LION HUNTS YOU, BUT SINCE THE LION CAN SEE WHICH GAZELLES ARE HEALTHYBY THEIR PRANCING, IT JUST TAKES THOSE SICK ENOUGH NOT TO BE PRANCING, AND IT SORT OF MAKES MORE SENSE THAN LOGIC DICTATED! BY GOD, HE'S SO RIGHT, HOT NOW. BUT WOULDN'T THAT EXPLAIN A LOT OF HUMAN BEHAVIOUR TOO? EVERYTIME THERES A NEW TOP BOSS ALL THE MIDDLE MANAGERS PRANCE ABOUT BUT PERFORM NOTHING IN THE PROCESS, AND HUMAN MALES WASTE ALL THIS TIME AND ENERGY TO LOOK HEALTHY FOR ALL THE FEMALES. OMG IT'S STARTING TO FALL INTO PLACE. I'M OVERWHELMED BY CLARITY! BARK! SOON SHE WILL REALISE THAT THE SAME THING IS TRUE WITH COMMERCIALS, THE MOST HEALTH COMPANIES SPEND MONEY ON THESE, AND NORMAL HUMANS WANT TO BUY FROM THE HEALTHY COMPANIES. HUMANS BELIEVE THAT THE MOST HEALTHY COMPANY IS ILLUMINATY, WHICH IS WHY EVERY COMPANY ON EARTH PLACES HINTS THAT THEY ARE ILLUMINATI SO THAT PEOPLE WILL BUY THEIR STUFF. IT'S A PERFECTION OF MIMICRY. DARWIN SO HOT RIGHT NOW. BARK!
hotkeys: D = random, W = upvote, S = downvote, A = back