More experience than all of congress and the current administration combined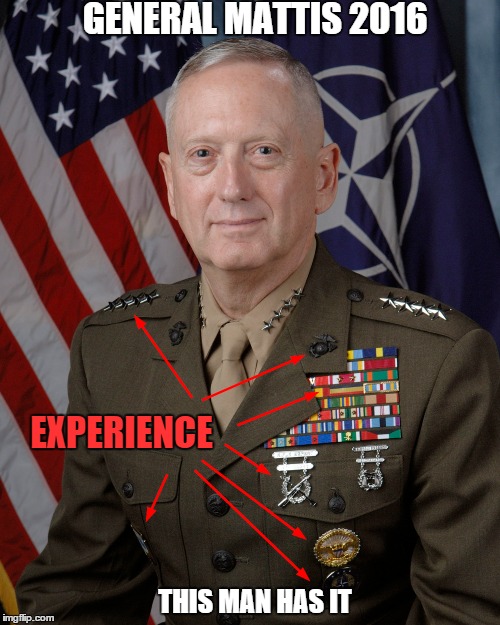 reply
We could use a general. The governors aren't doing well in the debates ???? No thank you to the senators, and where did Trump even come from?
reply
General Mattis is a soft spoken and very intelligent Marine. He is a fellow at the Hoover Institute. There are some videos on youtube of some sessions he has done. Well worth the watch and showcases his knowledge of foreign policy.

As for the current candidates, governors and senators are out automatically. The backlash against mainstream government and media is growing. Only an outsider will have a chance.

Trump didn't exactly come from nowhere, he debated running 4 years ago, and had quite a lot of support then. He appeals to the masses under the old 'the enemy of my enemy is my friend'. The more officials and media trash him, the more polarized his support becomes, and he doesn't give 2 shits about donors or what anyone says about him. I wouldn't be surprised if he won the nomination. Just my 2c.
reply
We would have a much better country if everyone were more informed and intentional with their voting. Thank you for the information. Unfortunately, though I hate the bipartisan politics we've been reduced to, I plan on voting for whoever the Republicans nominate. Be it Trump or otherwise. I wish that real qualifications and experience mattered more than bluster.
reply
[deleted]
Wizard, great meme and great reply (above). I won't even try to top it with a meme comment, just a text comment. Did you serve?
reply
I can neither confirm nor deny that I serve. Unfortunately, as you may be aware, the current administration has a tendency to rapidly prosecute any members of the military that publicly express any political opinions contrary to their own. Imgflip's great power is that it is relatively anonymous :-)
reply
[deleted]
That's affirmative. I've got the luxury of being retired, so I can say what I want. What are they going to do, take my VA care away and make me a homeless vet? Wait a second, brb, there's someone at the door as I type this...
reply
You want to see the special kind of stupid that is going make the blood sacrifices of our military be in vain?
imgflip.com/i/v0s9c
reply
Good meme! I am a vet as well. This administration gives just enough support to the military to appear "clean" in the public eye. There is an active "purge" of the military's finest going on right now. He's deliberately crippling our military, setting them up for failure and defeat. "O" is rapidly demoralizing our troops and setting up the military for failure! The masses are so uninformed and blind... and they have all the information at thyeir fingertips, but use it for anything but...! (sounds hypocritically comical coming from a guy on a meme site!!) ha ha ha !
Show More Comments
IMAGE DESCRIPTION:
EXPERIENCE GENERAL MATTIS 2016 THIS MAN HAS IT
hotkeys: D = random, W = upvote, S = downvote, A = back