Next disaster starts in 10 seconds: Memes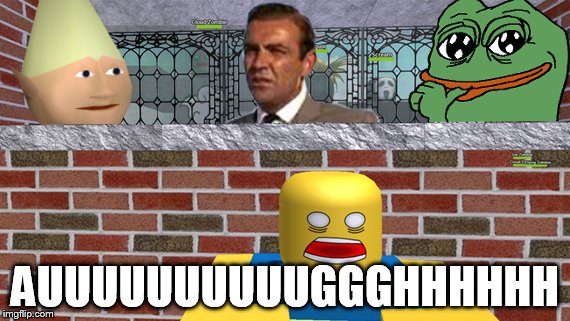 reply
First we had Connery vs Kermit the Frog. Now is it Connery vs Pepe the frog?

And I don't know who that yellow guy is!

Can you tell me now please? I don't want to wait the ten seconds! :)
reply
I was wondering the same thing!! :)
reply
[deleted]
It's the generic Roblox guy except someone drew a scared face on him
reply
ROBLOX ROBLOX ROBLOX SEND ME A FRIEND REQUEST LordGoldStar
reply
[deleted]
I sent you a friend request
reply
HOLY SHIT YUS! I'm 20 now but Ill never forget Roblox! I admittedly just played it a month ago for old times sake too! I doubt Ill be on there any time soon, but I have the same username as here. I used to be Hulkboy23 if any of yall remember that name. It was cause I had beaten the hulk game on the wii and I was a big LeBron james fan at the time. Ugh. Sports. -_-
reply
[deleted]
I no longer play Roblox, I don't really have time. I think my username is brianhockey12345. My favorite Roblox game is any build to survive. I wouldn't stop at building a fortress. I build a castle high up in the sky. I will have glass windows, a couch to sit on, a TV, a fireplace, and pictures on the wall. I will build very tall ladders and ascending bricks to be so high up, everyone looks like ants, if you can still see them. I then watch other users climbing my endless stairs. Some smart users use jet packs but I never figured out how to control them. Also I would do what admins/mods hate. I would topple my huge structure over, on top of other people's houses. Sometimes I will build a bridge to other people's houses by toppling over a column of bricks. Also I build bouncy rooms with those floating bricks that blow air up. Then I would throw difference color bricks, balls, chairs, furniture inside and watch them bounce around and run into each other. I enjoyed that creativity.
reply
I must teach you the ways of roblox
reply
[deleted]
I played it today just for old times sake ;) just logged off a few minutes ago.
reply
No, but seriously, I have to teach you how to look good and play good
reply
Roblox meme? Yesh please.
reply
lol idk why your mad about that
reply
[deleted]
The Roblox guy is not mad, he's scared. Whatever the disaster is, he will die if he's caught.
reply
Do you play a disaster game made by stickmasterluke
reply
[deleted]
No it's by someone like billy or bob...
reply
Is there going to be a sequel to this meme, please? :D
Show More Comments
IMAGE DESCRIPTION:
AUUUUUUUUUUGGGHHHHHH
hotkeys: D = random, W = upvote, S = downvote, A = back