Matrix Morpheus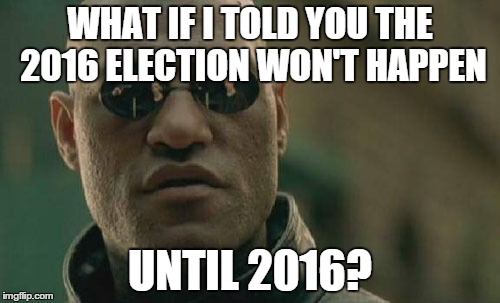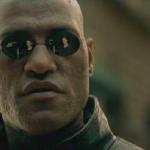 reply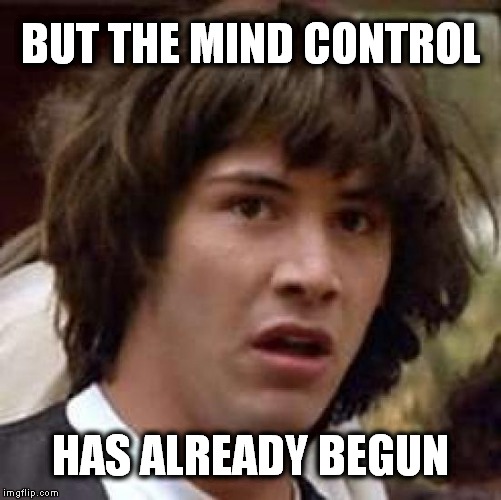 reply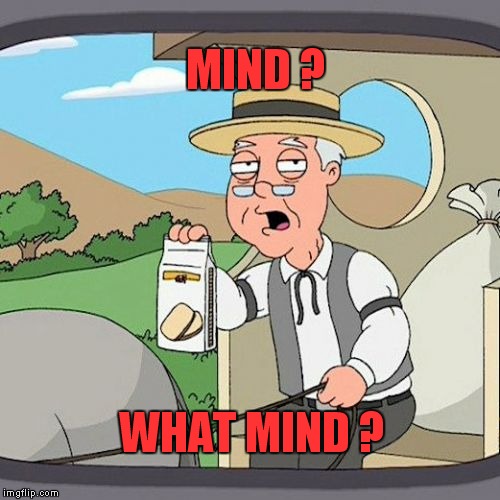 reply
[deleted]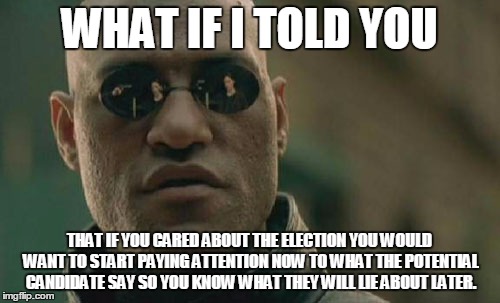 reply
I'm on my tablet right now so I won't meme comment for the sake of keeping my sanity. "What if I told you that it doesn't make sense to start announcing canidates and having debates about a presidential election that won't happen for another year and a half?" Seriously, we can at least wait until 2015 is almost over before we start talking about an election that happens near the end of 2016? Besides, if a canidate says something stupid now, the media and other politicians will be all over it when campaign ads launch and all the real commercials will be gone. Even then, you'd have to do thorough research into canidates so you actually have the facts. And it's best to do that when debates ect. are done so you can see how consistent they are. The bottom line is campaigns and debates are starting too early.
reply
[deleted]
Do you realize that the final candidates for each side are partly chosen by how the people react to them now? I know that people would have rather seen Rand Paul be the candidate in 2012, so the people's decision is not the only deciding factor, but it does have some impact. If we were to wait until August of 2016, 2 months is not enough time to do an in depth study on each candidate to make a valid decision on who to vote for. But if you think about how things have worked in the past, this will all die down for a few months before too long, and then pick back up around March. Right now, this is all about getting the Republican and Democratic candidates chosen before the blood bath begins.

Or you can just be like me and learn to ignore it all and not worry about it.
reply
Yeah, I'm ignoring it right now. I believe the canidates that will compete for their party's spot are based on how much they share their party's ideals and which one actually gets the spot is based off popular vote. But, it's actually pretty meaningless because the electoral colleges decide the president, not the people. While their decision is usually based off popular vote, they could just bypass what America thinks and choose whatever canidate they want.
reply
[deleted]
Which is why I don't vote to begin with. Why choose the lesser of 2 evils, or do a write-in vote that won't count anyways. Either way we don't win.
reply
hahahahahahahahhahahahahhahahahahahahahahaha!!!
reply
Well, I think I know who threw one dislike at my meme(unless you were making a statement about hypocrisy and actually like my meme). Now, who was the other dislike?
Show More Comments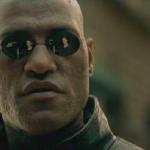 IMAGE DESCRIPTION:
WHAT IF I TOLD YOU THE 2016 ELECTION WON'T HAPPEN UNTIL 2016?
hotkeys: D = random, W = upvote, S = downvote, A = back