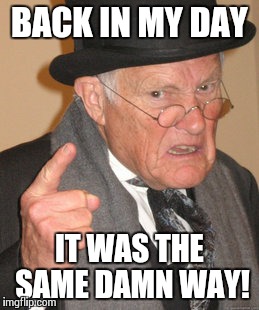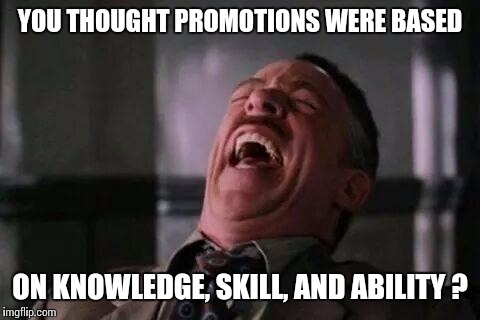 Kid, the World is so f**kin unjust, you have to...well, you either swallow it or you quit. After 47 years of living, that's all I have to offer. And for that, I apologize.
[deleted]
Oh, I know. I've been in the work place now for 15 years and saw other less competent people move through the ranks faster than me. I did become a manager eventually, but I had to work harder at it than less qualified workers. The meme actually in no way reflects anger or bitterness. I had it when I was less experienced, but it simply doesn't exist any more. I'm quite happy in life and at work. The meme...is simply an observation.
Good on you. Nice that you can look back and not be hateful.
And to top it off, he/she is a teenager who doesn't even get paid minimum wage. All the teenager cares about is a title that makes them feel good.
[deleted]
I'm sorry, who are we referring to?
I'm sorry. I was talking about how my mom is treated at her work place. She's been there since the place first opened. But lately, everybody has been treating her like crap and hiring only teenagers who feel that it is their place to boss her around. They start giving them important titles that don't really benefit them in the slightest. So far, none of the teenagers have complained about what they are paid. When they are promoted, they take advantage of that and boss everyone around without actually doing any work.
[deleted]
It always sucks when you've put in many years of service and be made to feel unappreciated by your employer. I've been overlooked for promotions and raises a few times. I didn't get the promotion one time simply because the other candidate was Hispanic. He was one of the laziest employees there-did anything to get out of working. I thought I really had it. On some days I worked 14 hours to help out since we were short staffed at the time...and I didn't get the promotion simply because I was the wrong ethnicity. As someone on here said, there's sometimes no justice for decent people. I've learned, however, that I have to keep soldiering on. Sometimes things don't work out immediately, but in the end it will be better than we expected. If I do what's right no one can accuse me of doing otherwise. Tell your mom to stay strong.
Show More Comments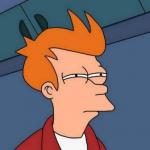 IMAGE DESCRIPTION:
I SEE A LAZY COWORKER WHO BLAMES EVERYONE ELSE FOR THEIR INCOMPETENCE CORPORATE SEES MANAGEMENT MATERIAL
hotkeys: D = random, W = upvote, S = downvote, A = back