Fun fact: stunfisk and Gardevoir can breed.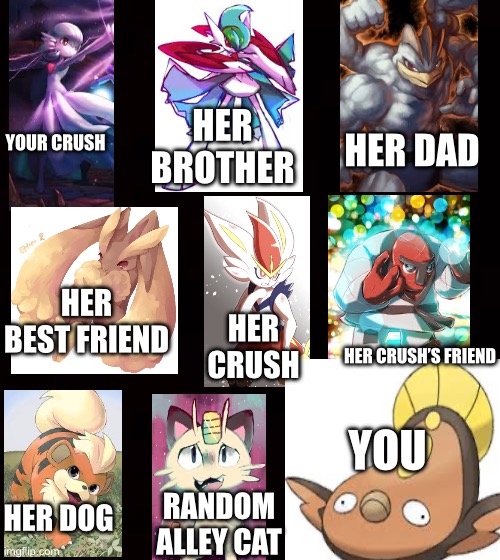 "Random Alley Cat"

*WHEEZE*
Imagine wanting to have any kind of love life/relationship
I hate you for sharing that information
another fun fact: muk can breed w/ gardevoir too!
I feel like that's a fact that most Pokemon fans (unfortunately) know.
yeah...(i definetely dont egg hunt for ralts with a muk and gardevoir)
[deleted]
why is her best friend lopbunny wtf
An equally sexualized pokemon
Because gardevoir is in the amorphous egg group. To give you an example of the Pokémon in that the egg group, it includes Muk, Macargo, and Stunfisk.
[deleted]
Meanwhile, me:
(Gholdengo)
My reaction to this information:
Show More Comments
EXTRA IMAGES ADDED: 10
80A21185-EA6E-4130-B9D0-063E57C75059.jpeg
3BDD4B23-9C12-452A-AA5F-8EF27762DA6C.jpeg
F5F2BC9E-9856-4D58-8536-11C53472A469.jpeg
48C410A4-0A63-438B-A618-82E4BD99760B.jpeg
826AE3D5-9418-44AF-A80C-A08CA0011081.jpeg
FBE6E82A-1EF0-425A-93AD-A3E387C4C790.jpeg
39D7703C-3A95-4A1D-B33F-E44708CA12E4.jpeg
9BA6F13B-E155-4C56-B5FB-992F79DDC050.jpeg
B020EB28-0775-459F-AF7C-F750EAEB8F7A.jpeg
Your crush / her father meme
Your crush / her father meme
IMAGE DESCRIPTION:
HER BROTHER; HER DAD; YOUR CRUSH; HER BEST FRIEND; HER CRUSH; HER CRUSH'S FRIEND; YOU; HER DOG; RANDOM ALLEY CAT
hotkeys: D = random, W = upvote, S = downvote, A = back