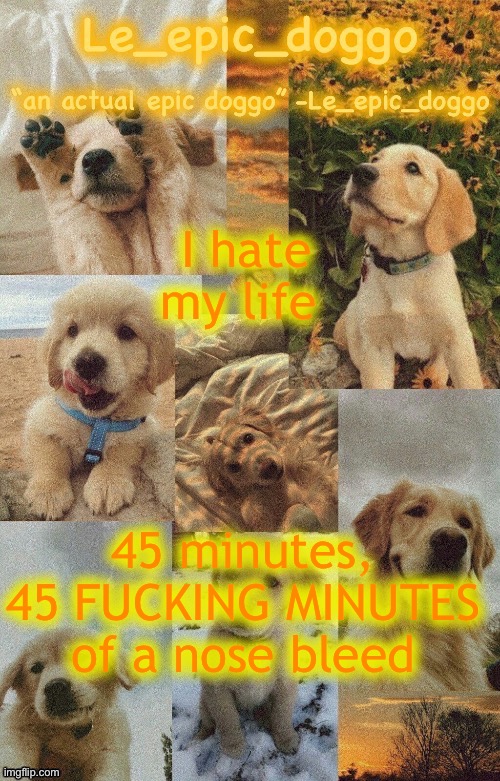 stop putting your injuries in the comments its not a competition
I fell down the stairs at the age of 6
I fell down the stairs when I was two
Did you hit your head on a concrete wall at the bottom of the stairs?
I HIT MY HEAD ON A F**KING TILE FLOOR WHEN I WAS 7 MONTHS OLD
I STILL HAVE THE STITCHES ON MY HEAD
I busted my head open when I was 4 months old. They put F**KING GLUE IN THE WOUND.
I broke my wrist and my two front teeth on a concrete tile floor
Well duh
Why else would I have this as my username
I F**KING ALSO BROKE MY SKULL WHEN THAT HAPPENED
so you want me to go masturbate or something
[deleted]
imagine having a nosebleed
but its from your dick
and you have a stomach ache
for like a week straight

Appreciate that you aren't one of us dishwashers
well i crashed my go kart into the rocks, had a major headblead, and had to get permanent stitches. so, a nosebleed is nothing
Did you squeeze your nose?
Show More Comments
IMAGE DESCRIPTION:
I hate my life; 45 minutes, 45 F**KING MINUTES of a nose bleed
hotkeys: D = random, W = upvote, S = downvote, A = back